CHARLOTTE – Curtis Samuel's most valuable assets are his legs. Which makes his continued recovery from last year's season-ending ankle injury one of the more significant stories worth following through training camp and the preseason. 
But Samuel's elite speed won't matter all that much if his hands aren't dependable. Which is why he recently had a JUGS machine delivered to his South Charlotte home.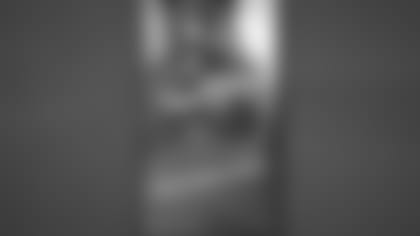 "The best investment is investing in yourself," Samuel said of his new mechanical quarterback while walking off the field after the final day of minicamp. "So I had to do it for myself."
The Panthers didn't get much from their second-round investment last year. Samuel caught just four passes for 12 yards as he battled a strained hamstring and sore back through his first six games. Then came a healthier four-week stretch where he totaled 11 receptions for 103 yards including a five-catch first half on Monday Night Football against the Dolphins. But Samuel's season ended on his next target, a perfectly thrown ball from Cam Newton that hit Samuel in the chest. As the ball fell to the turf in the end zone, Miami safety Reshad Jones fell on Samuel, breaking a bone and causing ligament damage in Samuel's left ankle. So just as it appeared he was starting to settle in, Samuel's season was over.
Drops aren't an official NFL stat, but according to FOX Sports, Samuel had two in 23 targets as a rookie. That's not a large sample size, so the jury's still out on Samuel's hands. And because his conversion from running back to wide receiver was cut short last year, he's still working on one of the basics.
"I think completing the catch before he runs," head coach Ron Rivera said when asked what part of Samuel's game needs the most work. "He's so quick and he wants to get going so quickly. A big part when guys have problems with catching the ball is catching it first and then going. He's got such great acceleration and speed that if he turns his head before the catch is completed, sometimes he'll bobble and drop them.
"So it's getting comfortable with that ball coming at you, being patient enough to complete the catch, and then using your great athletic ability and acceleration to go."
Because Samuel was limited this spring, his ability to get more comfortable was limited. He hopes to be full-go when the Panthers get to training camp, but even then you'd expect him to get occasional drills or days off.
In the meantime, he can work at home.
With his "cousin, friends or homies" running the JUGS machine in Samuel's driveway or backyard, he aims to catch about 100 balls each session. It's not all that similar to live game action, but he hopes it helps get him closer to where he needs to be.
"I'm just getting familiar with catching the ball from different angles," Samuel said. "I want to train myself, train my eyes.
"I feel like my hands are great, it's just about training myself to keep proper hand placement and keep doing it over and over and over again."