CHARLOTTE – The last time we saw offensive lineman Daryl Williams on a field, he was being carted off during the Panthers' 2018 season-opening win over Dallas.
So to see him jogging around Wednesday's OTA session was a good sign. A really good sign.
"I'm feeling good," Williams said afterward, "I'm feeling really good."
Williams, who tore the MCL and dislocated the patella in his right knee during the third practice at training camp last year, elected not to have surgery before the knee gave out against the Cowboys. He then tested the waters of free agency before signing a one-year deal to come back to Carolina.
"Man, it's been a hell of a journey. Ups and downs, but hey, God wouldn't test you if he knew you couldn't handle it," Williams said. "So I'm doing good. I'm enjoying my life. I love it. I love being back here."
Williams isn't all the way back just yet. He can work in individual and installation periods but has to sit out team drills. The hope is he'll be fully cleared by the time the Panthers head to Spartanburg in late July. Where he'll line up when he gets there is another question.
In his 40 games since the Panthers made him a fourth-round pick in 2015, Williams has spent the bulk of his time at right tackle. But that spot now seems earmarked for Taylor Moton, who impressed there last season. With second-round pick Greg Little the favorite at left tackle, Williams' best route to playing time appears to be at left guard. So the final stages of his comeback include getting comfortable in a new role.
"I think at guard you don't have to kick back as much. In the run game, I feel like it's a little tougher," Williams said. "But at the end of the day, we're all linemen. So whatever happens, I'm just going to give it my all."
Joining Williams on the "limited" list right now is Matt Paradis. But that the center is out there at all is also a good sign.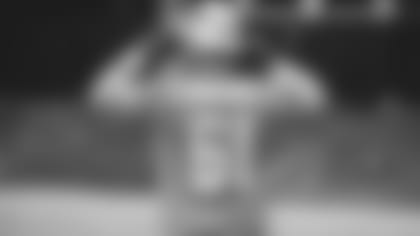 "(I'm) progressing great. The leg is coming along real well. We've just got to ease into it," Paradis said. "It's a good progression, but we don't want to overload it. I think we're ahead of schedule."
Like Williams, Paradis hopes to be fully cleared by training camp. That would give the Panthers a potential line that looks this:
And with guys like Tyler Larsen, Greg Van Roten, Taylor Hearn, Brendan Mahon and sixth-round pick Dennis Daley also competing, the unit is coming together nicely — on paper, at least.
"I see we have some potential, but at the end of the day, it's about staying healthy, too," head coach Ron Rivera said. "We felt pretty good going into last year and we lost three tackles within four days of practice. We've just got to stay healthy and be fortunate that way.
"I do like the young guys. We've added some quality depth, but you really don't know until you get a chance to play."