CHARLOTTE – Linebacker Thomas Davis is a finalist for the Walter Payton Man of the Year Award, presented by Nationwide, for the second consecutive year.
"It's definitely a huge honor," Davis said. "It's extremely rare to be nominated as a finalist two years in a row. It just speaks volumes to the work we've been able to do in the community – here in Charlotte and in Georgia and South Carolina."
Green Bay Packers quarterback Aaron Rodgers and San Francisco 49ers wide receiver Anquan Boldin are the other finalists recognized for their off-the-field community service and playing excellence. The winner will be announced in Arizona, the site of Super Bowl XLIX, during the fourth annual NFL Honors, a two-hour primetime awards special to air nationally on Saturday, January 31, from 9-11 p.m. ET on NBC.
The winner will receive a $50,000 donation in his name to a charity of his choice from the NFL Foundation and Nationwide. The two other finalists will receive $10,000 donations in their names from the NFL Foundation and Nationwide.
The finalists were chosen from among the 32 team nominees for the award, all of whom receive a $5,000 donation from the NFL Foundation and Nationwide to the charity of their choice. The selection panel is comprised of NFL Commissioner Roger Goodell, former NFL Commissioner Paul Tagliabue, Connie Payton, Pro Football Hall of Fame members Frank Gifford and Anthony Munoz, 2013 winner Charles Tillman, and Sports Illustrated football writer Peter King.
"Thomas Davis lives his life the way that Walter Payton did – family and community first," said head coach Ron Rivera, Payton's former teammate with the Chicago Bears. "Thomas' strength to come back from three knee surgeries is indicative of Payton's toughness on the football field."
In 2012, Davis became the first known NFL player to return for a full season after three ACL reconstructions on the same knee. In 2013, he set career highs with 151 tackles and four sacks.
Carolina's vocal leader and a team captain finished the 2014 season with 129 tackles and 2.5 sacks, helping the Panthers become the first franchise to claim consecutive NFC South division titles.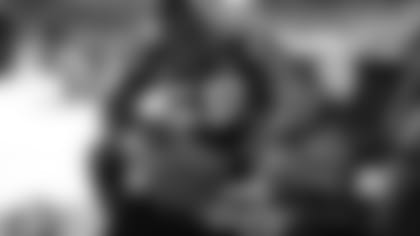 Off the field, Davis and his wife, Kelly, run the Thomas Davis Defending Dreams Foundation, a non-profit dedicated to enhancing the quality of life for more than 2,000 underprivileged children and their families annually. Since its inception in 2007, the foundation has distributed more than $500,000 in aid.
The foundation offers everything from a youth football camp for 350 boys and girls to a school supplies program that impacts 600 students every year. Over the holidays, Davis, with the help of teammates, hosts his annual Thanksgiving meal for the Battered Women's Shelter and annual Christmas toy giveaway.
In June 2013, the foundation constructed the first and only park in Davis' hometown of Shellman, Ga.
The foundation's cornerstone program, the Youth Leadership Academy, is a 14-week afterschool program that mentors low-income middle school students in areas such as etiquette, public speaking, community service, leadership and academic achievement – something extremely important and personal to Davis. In August 2011, Davis became the first member of his immediate family to graduate from college.
"I couldn't be a hypocrite and lecture students about the importance of education if I wasn't willing to do the work it took myself," Davis said. "Now I can speak to them as a college graduate."
In April 2014, Davis received the Call to Courage Award, given annually to a Christian athlete who displays exemplary character through both adversity and triumph.
"I have had the pleasure of watching Thomas Davis grow into the confident mature, caring man he is today," Panthers Owner/Founder Jerry Richardson said. "No one takes his position of influence more seriously than Thomas on the field or in the community. He is a leader who is unselfish with his time and energy to help those around him, whether that is the younger players on the team or the youth in the Carolinas.
"He is committed to his profession, his family, and his charity work and that is why he has made our community a better place to live."