Editor's note: Linebacker Thomas Davis has been named as one of three finalists for the Walter Payton NFL Man of the Year Award, which is the only league award that recognizes a player's off-the-field community service as well as his playing excellence. The winner will be announced during the third annual NFL Honors Awards on Feb. 1, 2014 in New York. Davis is the first Panthers player to be named as a finalist for this prestigious award. The other two finalists are kicker Jay Feely of the Arizona Cardinals and cornerback Charles Tillman of the Chicago Bears.
CHARLOTTE – There are plenty of viable candidates on the Panthers roster for Walter Payton Man of the Year.
That makes Thomas Davis' second consecutive nomination all the more impressive. And it goes to show just how widely respected Davis is amongst his teammates.
"When I heard his story about what he had gone through, it touched me," first-year Panthers safety Mike Mitchell said. "And then I started seeing how hard he works every day, seeing that he's a family man. He's a guy you grow to love. He's a true leader. When he says something, I listen."
The Walter Payton Man of the Year award is given annually to a player for his community service activities as well as his excellence on the field.
"It just says a lot about the work that I've done in this community. Guys respect that, and they understand that there's a lot that goes into it," Davis said.
Davis was the team's nominee last year when, in addition to his always steady involvement in the community, he successfully returned from three torn anterior cruciate ligaments in his right knee in less than two years and posted 118 tackles in 15 games.
He was eased back into the lineup in 2012. There was some tentativeness, and that was understandable given his injury history.
But in 2013, Davis has cut it loose.
Carolina's vocal defensive leader, who plays both strongside and weakside linebacker, is making a strong case for his first Pro Bowl selection. Davis has compiled 121 tackles, a career-high four sacks, seven quarterback pressures and seven passes defensed through 13 games.
"It almost brings a tear to my eye, honestly," defensive coordinator Sean McDermott said of Davis considering all he's overcome.
His play on the field and the statistics speak to his impact as a player.
What Davis went through in rehabilitating his surgically repaired knee three times, and what he does in the community year-round speak more to his impact as a man. That's the focus of this story.
And two people who know the man as well as anyone help tell it.
---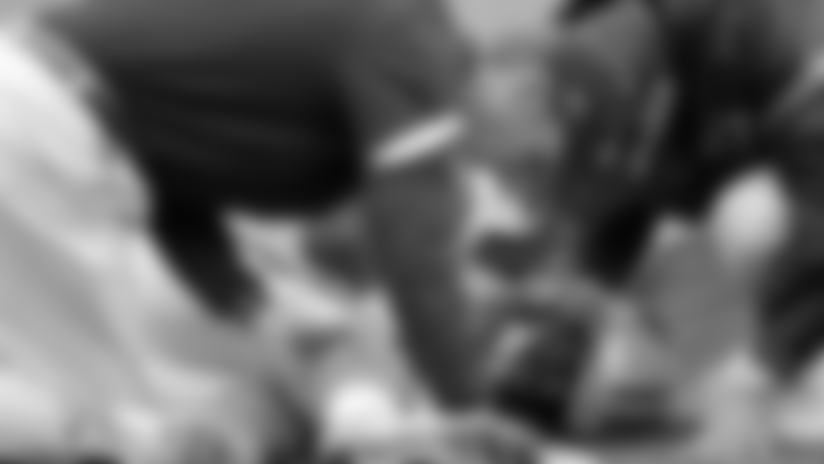 After Davis suffered his third torn ACL in Week 3 of the 2011 season against the Green Bay Packers, he walked into Panthers head athletic trainer Ryan Vermillion's office and told him it was over. He was done playing football.
Did Vermillion believe him?
"I did. I thought that was going to be it," Vermillion said. "I felt hey, no shame in what you've done. No shame in leaving the game."
Davis changed his mind the next day. He wanted to become the first known NFL player to return from three ACL tears in the same knee.
"Knowing him, I wasn't surprised when he came back in," Vermillion said. "Twenty-four hours later the first thing he said was, 'We're going to make history.' I said, 'You got it.'"
So the road to recovery began once again. Doctors went into Davis' knee and repaired his ACL for the third time.
Davis gave his body to football. And now he had to give some more to fix it.
"When you go in there, you clean everything out and start over again," Vermillion said. "Every time you do it you use a different part of your body to repair it. His hamstring tendon was used one time. The patella tendon on the right side was used one time. And the patella tendon on the left side was used one time."
Despite the trauma his right knee had faced, it turns out Davis was actually lucky in some respects.
When Davis tore his ACLs, he didn't have other meniscus or cartilage issues with it. It was just the ACL that was damaged, making it a relatively straightforward fix.
The more difficult fix was mental. Davis needed to endure a third, long rehabilitation. And since he had become so familiar with the rehab routine, Vermillion needed to think of ways to change it to keep him focused.
"I had to make sure we didn't go too fast," Vermillion said. "By your third time, you're like, 'Oh, that's not going to kill me. Oh, that's no big deal.' On the last one I really had to make sure we went through the physiology of healing."
Once Davis returned to the field, he needed to trust his knee and play.
Vermillion needed to trust it as well. Although, that's easier said than done.
"Very much so," Vermillion said. "In San Francisco this year he took a hard hit on that knee, and it worried me. I get worried every time he goes out there and plays with guys diving at his knees.
"But I don't see him favoring it. I don't see him moving any differently. I see a very explosive guy. He's able to run down players."
Vermillion has been an NFL trainer for 22 years. He's been with the Panthers for 12 seasons. He's seen a lot of injuries and rehabbed a lot of players.
Has Davis' return from three ACL tears in the same knee to a playmaking starting linebacker surprised him? You bet.
"Yeah, I'm surprised," Vermillion said. "I'm surprised at his willingness to go through everything he's had to go through to get where he is.
"The biggest positives for Thomas are his mindset and his heart. Those are the things that really push him beyond a normal guy."
---
When he planned to retire, Vermillion was the second person Davis told. The first was his wife of five years, Kelly.
"He did tell me that," Kelly said. "We spoke about it with the previous injury. After the first one we knew he could come back from it. We knew it was kind of normal. With the second one, we were blown away. It was pretty hard the second time. We were debating, 'Is this it?' It's the same knee, and we weren't sure he would keep going.
"The third one comes, and he was like, 'I'm done. It's a wrap.'"
It was emotional. It was hard. But Kelly and Thomas discussed it further.
"We sat down and talked about it. We cried. We prayed," Kelly recalled. "I told Thomas, 'You have to rehab anyway. You have kids you want to run around with. Why not try it again? I know how hurt you are because you're not done. Your heart is still in football.'"
So Thomas rehabbed for this third comeback, and Kelly was behind him every step of the way.
She's incredibly proud of her husband when she watches him chase down ball carriers now. But she has to fight off nerves each time he steps on the field with a brace on his right knee that's put them through so much.
"I feel like he's in a car accident every time he hits somebody," Kelly admits. "I tell myself that he's the big truck and they are the little Honda.
"But it is very hard. I'm so focused on Thomas and making sure he's okay. I have to tell myself, 'Kelly, don't worry about it. He's going to be alright.'"
Davis refused to let three ACL tears get in the way of his aspirations on the field or off.
"Thomas has a really, really soft heart when it comes to assisting kids in need," Kelly said.
The foundation's mission statement reads: "Educate. Empower. Defend. Our foundation is built on these principles and strives to encourage students to develop the essential life and social skills that will make them leaders of tomorrow."
Davis, inspired by the poverty stricken environment he grew up in, is on a mission to make sure his foundation succeeds.
"When Thomas got hurt, he would still – on his crutches – come to our leadership academy sessions," Kelly said. "The only time he wasn't there was when he was in the hospital or had recovery days. He would always show up. It's amazing."
Others could have handled the foundation for him. But that was never his intent.
"When Thomas and I sat and talked about it in 2006, Thomas wanted to be hands on," Kelly said. "He didn't want a publicist or a PR company running the foundation for him. He wanted to be at every event. He wanted to make the major decisions and be an active board member.
"You don't see a lot of players doing that, especially with their schedules because they don't have the time."
Davis' teammates can relate to the busy schedule. And when they offer assistance at Davis' events, they realize just how much effort is required to run a foundation and play in the NFL.
Perhaps it's then when they realize there is only one choice when it comes time to nominate someone for Man of the Year.
"They look at him and they probably think, 'Thomas is dealing with injuries, he's out there on the field playing well, and now he's doing all this other stuff. And he has a wife and four kids at home,'" Kelly said.
"He doesn't even think about being tired. That's probably helped them nominate him for this award two years in a row. They see how much of a leader he is and they see the impact he has on the community."