CLEVELAND – The same story continues to play out for the Panthers offense.
Late in tight games, they've got the ball in their hands with a chance to take the lead.
"I practice for those moments," quarterback Cam Newton said. "As a player, you live for those moments."
But Carolina's hopes are being dashed in those moments.
On Sunday in Cleveland, the Panthers possessed the ball three times in the fourth quarter trailing by one score.
Last Sunday at Tampa Bay, the Panthers possessed the ball four times in the fourth quarter trailing by one score.
Different week, same result.
"It's extremely frustrating coming up short each and every week with similar settings and not be able to push through," Newton said after the Panthers' 26-20 defeat against the Browns.
Two weeks ago, Carolina was second in the NFL in fourth-quarter scoring. Now the Panthers have been shut out in the fourth quarter for two straight games, a big reason their losing streak has grown to five.
"I wish I had the words to say," Newton said, "but I don't."
After Cleveland took a 23-20 lead with a 4-yard touchdown from running back Nick Chubb early in the fourth quarter, the Panthers went three-and-out. But the third-and-10 play was almost a big one.
Newton, who has been battling soreness in his throwing shoulder, tossed a rare deep ball down the left side for speedster Curtis Samuel, and it caught cornerback T.J. Carrie off guard.
"We squatted on a route. You can blame me after that," Browns head coach Gregg Williams said. "They ran by us on a double move… We were playing the tendencies that we saw."
Samuel had his man beat, but he had to come back for the ball from Newton, who has struggled with deep passes this season. Samuel went up and got his hands on it, but Carrie got his hand in there to dislodge the ball.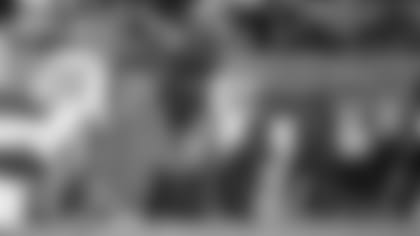 "That was on me. All I can ask for is Cam to give me a ball that I can catch," Samuel said. "The DB made a good play coming to the ground. But that's a play I make all the time, and I was supposed to make that."
Said Newton: "Kurtco can make that play; I can make that play and give him a more accurate ball. One of those plays that didn't go in our favor. Just got to move on."
The Browns extended their lead to six with a field goal, but Carolina marched into scoring position on the ensuing drive.
A 24-yard pass to wide receiver Jarius Wright set up first-and-goal at the 9. After running back Christian McCaffrey rushed for six yards, Newton pitched to wide receiver DJ Moore who was swarmed for no gain.
On third-and-goal, Newton appeared to put too much zip on a back-shoulder pass to Samuel, who created separation but couldn't come down with the catch.
"It's another one on me I feel like," Samuel said. "We practiced it, and I have to make the play when we call that. I can't put it on nobody but myself. Coach and Cam are trusting to me to make that play."
On fourth-and-goal, the Browns rushed six but Newton had a clean pocket to survey his options and eventually target Wright, who broke open in the end zone. But, like the decisive two-point attempt at Detroit, the pass sailed incomplete.
"I had time," Newton said. "Just comes down to throwing and catching."
With the help of two remaining timeouts and the two-minute warning, Carolina's defense produced a stop to give the offense a last chance with 1:04 remaining in the game.
But Newton's pass for wide receiver Devin Funchess was picked off on the first play of the possession.
"In this league that's what it always comes down to – find ways to keep the game close and win late in the game," Newton said. "We just haven't found a way to win in those situations."
Newton was just as frustrated by what took place early in the third quarter.
Despite being set up at the Cleveland 32-yard line following a second forced fumble by linebacker Luke Kuechly, the Panthers went backwards and were forced to punt.
Points of any kind would have been huge in that situation.
Instead, it's another case of regrettable missed opportunities following another narrow defeat.
"We're not playing good complementary football," said Newton, who has harped on that very thing for weeks. "When the defense is getting stops and turnovers, we can't have this lackluster performance and find ways to not get points.
"Those opportunities slip through our grasp and find ways to come back and bite us."