CLEVELAND – No one saw this coming.
Even after the blowout loss in Pittsburgh on Thursday Night Football that dropped the Panthers to 6-3 – a loss that was widely described as "humbling" for a team that had been rolling – no one saw five straight defeats and a 6-7 record coming out of Week 14.
"I didn't expect this. We had high expectations for this season," safety Mike Adams said following Carolina 26-20 loss to the Browns. "Unfortunately, it hasn't been going our way. The only people we can blame are ourselves."
At the time, veteran leaders in the Panthers locker room believed the loss to the Steelers could serve as a wake-up call of sorts for the young guys, that it could be a good thing in the long run as Carolina pushed on toward the postseason.
But instead that drubbing has proven to be the beginning of an unraveling.
"Things happen," defensive end Julius Peppers said. "Your plans don't always work out how you want them to."
With each passing week, the Panthers' playoff hopes have been dwindling. But at this point, a team that had hopes of winning it all is desperate for a single win.
"To be honest with you, I don't feel like there is a loss of confidence or anything. We're just not putting a good product on the field," Peppers said. "We felt like we were going to win today, we felt we were going to win last week. We feel like we can win every game.
"So it's not for lack of confidence. It's just a lack of execution."
And a lack of execution in crunch time – that's been the recurring issue during this five-game slide, with each of the last four games decided by one touchdown or less.
"We're not able to close out games," linebacker Thomas Davis said. "To continue to lose by a touchdown or less is just extremely frustrating. We're in position to win games and we're just not coming away with it.
"We haven't finished for the last freaking month, and it's cost us."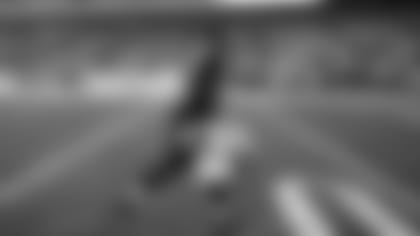 Frustration is mounting, especially after such a promising start to the season.
"Yeah, it's starting to build up," rookie wide receiver DJ Moore said.
And the Panthers know they've been cast aside after dipping below .500.
"It's kind of an 'us against the world' feeling," running back Christian McCaffrey said. "We have just us right now."
So where do they go from here?
They go home and get ready for a Monday Night Football clash with the 11-2 Saints. And they do so knowing they are still technically alive in the race for a Wild Card spot.
"There is no quit in this team, and as one of the veteran players, I better not see it," Davis said. "Not gonna happen around here."
Five weeks ago, it looked like Carolina and New Orleans were on a collision course to decide the division with two meetings in the final three weeks of the season.
It hasn't gone that way. But the Panthers haven't yet had their final say.
"Nothing else matters right now besides getting a win next week," Peppers said. "That's where we at… There is really nowhere else to turn."
View game action photos from the Panthers 26-20 loss against the Browns.