Daniel Jeremiah, the NFL Network's new lead draft analyst with Mike Mayock now drafting for the Raiders, was Appalachian State's starting quarterback from 1997-99.
But Jeremiah doesn't need a local tie to tout draft prospects with ties to Panthers territory.
When the quarterbacks take to the field at Lucas Oil Stadium on Saturday for their always anticipated NFL combine workouts, a pair of quarterbacks who played the position in the state of North Carolina will go under the microscope.
And when defensive linemen get their turn Sunday, a quartet of prospects who played just down the road at Clemson will garner plenty of attention.
Jeremiah was asked during his pre-combine conference call about whether he could see the Patriots using one of their league-high six picks in the first three rounds on a potential Tom Brady backup/heir apparent.
In response, Jeremiah made mention of Duke quarterback Daniel Jones and N.C. State quarterback Ryan Finley.
"If they were going to be looking at some guys at 32, Daniel Jones to me if he were to fall down that far would make a lot of sense," Jeremiah said. "He's very bright. He's going to be able to kind of swallow the information you're going to have to swallow in that offense in due time. He's got touch and accuracy, does not have a huge arm but just a real smooth rhythm quarterback, which is something they value in a big way."
Jones, who played his prep ball at Charlotte Latin, was MVP of the Senior Bowl. His strong third quarter put the North in control before he turned it over to Finley, who enjoyed similar production in the fourth quarter.
"He's almost a little bit of a poor man's Jared Goff," Jeremiah said of Finley, touting him as a solid pick after the first round. "Same build, kind of that skinny frame, but great anticipatory thrower, very accurate and tough."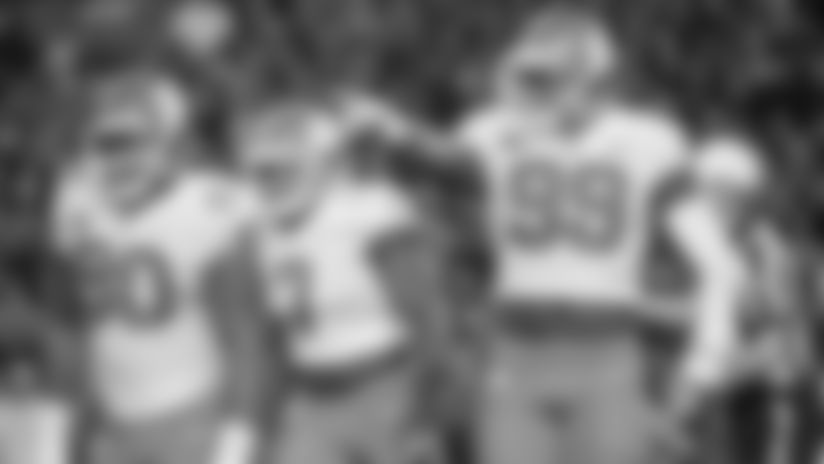 National champion Clemson can claim a trio of defensive linemen getting plenty of love from Jeremiah and other draft analysts, but the Tigers actually have another lineman poised to give them four picked during the first two days of the draft.
"He is just kind of the forgotten man in their group," Jeremiah said of defensive end Austin Bryant, who he considers a second-round possibility after Clemson defensive tackles Christian Wilkins and Dexter Lawrence as well as defensive end Clelin Farrell are taken. "He's got some pass rush (ability). They'll line him up over the slot and let him play in some space. Really, really good over tight ends."
Jeremiah likes Wilkins the best among the bunch, calling him an "interior disruptor" of the highest order against both the pass and run. He says Lawrence would have been a top-10 pick 10 years ago because of his dominance in the run game, but Jeremiah thinks the premium placed on interior guys who can bring down the quarterback might put him Lawrence more in the 20 range.
The Panthers appear to be more in the market for an elite edge guy like Farrell, who Jeremiah thinks makes a lot of sense as a Carolina consideration at No. 16 overall.