INDIANAPOLIS, Ind. — The Panthers might not be playing their starters in Sunday's preseason opener against the Colts.
But considering some of the roster battles and issues they need to address, there are still plenty of reasons to watch.
The Panthers have many players who need to impress in these three preseason games, as they begin roster cuts next week.
They have to reduce the roster from 90 to 85 by Tuesday afternoon, so five of the guys who suit up for the game won't be around for next week's joint practices against the Ravens. That provides all the incentives they could possibly need.
Here are a few topics to keep an eye on as the game unfolds: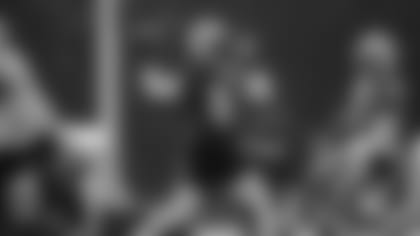 1. Can PJ Walker take the lead for the backup quarterback job?
The team listed Walker and Will Grier as even for the second job on the depth chart released earlier this week, despite the fact Walker was the backup last year and got the start against the Lions when Teddy Bridgewater was injured.
Walker can be a dynamic player, and is willing to try to make big plays. The flip side of that is that he sometimes takes too many chances (hence the one touchdown and five interceptions last year).
Head coach Matt Rhule said he wasn't sure who would start next week's game, but he thought the two would each play about half the snaps against the Colts.
Grier's the more accurate quarterback but sometimes plays a little careful, so they'll want to see if he's willing to stand in the pocket and make throws downfield when things break down.
This job appears to be entirely up for grabs.
2. Who ends up returning kicks?
Rookie running back Chuba Hubbard took a kickoff to the end zone in joint workouts with the Colts Friday, showing the kind of top-end speed that made him a top-level youth sprinter in Canada.
A play later in that practice, wideout David Moore nearly matched him, pushed out just short of the end zone.
They have some other options, and they're still looking for someone to handle punt returns, but they'd like to have someone with some pop on special teams.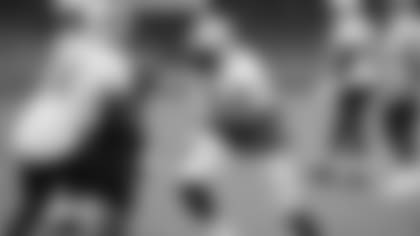 3. Who emerges in the hunt for offensive line depth?
There are still questions about the starting line, and which five guys make up that unit. Beyond that, the next group is playing for roster spots and places on the active list on gameday.
Trent Scott started four games at left tackle last year and played well, and Dennis Daley (who didn't make the trip for personal reasons) is still in the mix for a starting guard job, so they seem to have good chances to make the 53-man roster. Rookies Brady Christensen and Deonte Brown are also trying to create roles for themselves, and center Sam Tecklenburg got good reviews for his work with the starters against the Colts. Matt Kaskey has also worked with the ones at guard, and hasn't looked out of place.
Beyond those guys, tackle Greg Little's trying to win a roster spot, and the former second-rounder is running out of opportunities to prove himself.
4. Is there an inside linebacker they can trust?
The Panthers would love to have some depth at the position, but free-agent acquisition Denzel Perryman has barely practiced because of an injury. They brought in veteran Josh Bynes recently to provide cover, because they've had a hard time keeping guys on the field.
In addition to Perryman, Julian Stanford and Clay Johnston didn't make the trip because of injuries, leaving an odd lot of players to compete for a job. Rookie Paddy Fisher isn't particularly fast, but he's in the right place at the right times and has earned some notice in camp.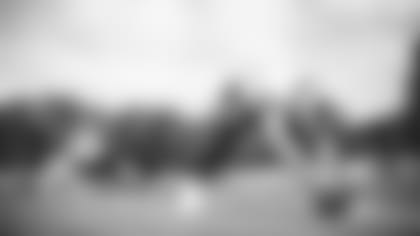 5. Will either of the long snappers stand out?
If you're a long snapper and you get noticed, it's probably bad news.
So veteran JJ Jansen and rookie Thomas Fletcher will do their best to stay under the radar against the Colts, as they compete for a single job.
Jansen's listed first on the depth chart, but drafting Fletcher in the sixth round suggests they're at least considering making a change.