MOBILE, Ala. – A lot of NFL draft prospects talk about adversity they've overcome.
A lot of them have incredible underdog narratives.
Javon Kinlaw's story stops you in your tracks.
The former South Carolina defensive tackle is one of the top talents at the 2020 Senior Bowl, and it's amazing how he got here.
Here's what Kinlaw told reporters as he sat behind a podium at Senior Bowl media day:
"Just growing up in northeast Washington, D.C., pretty much homeless, living in basements. We went without electricity, no water, things like that. We had to use the neighbor's hose to fill up totes of water. We would take them back in the house. We had gas, a gas stove. We would light the stove with a little match or something, get a tall pot, boil the water, mix it with some cold water, put it in a bucket, take it upstairs, take a shower like that. At a young age, we just thought that was normal. That's how we was living, we didn't know how everybody else was living, but we knew that's how we was living and we was cool with that, especially me. But now that I look back at it, it was tough, man. It made me a man at a young age."
Kinlaw said he and his brothers would often eat bologna or hot dogs. Sometimes oatmeal. Sometimes buttered bread.
"As long as I got food, I was cool," he said.
Before joining the Gamecocks program, Kinlaw spent a year at Jones County Junior College. It was eye-opening, to say the least.
"Fun fact, my first two days there I didn't even eat, because I didn't know where the cafe was at," Kinlaw said. "Then I didn't know the food was free, so when I found out it was free, I was going crazy."
Once Kinlaw got to South Carolina, he was put on a life-changing path to the NFL.
The 6-foot-6, 310-pounder is a disruptive force. After learning how to strike, maintain his gap and control the guys tasked with blocking him, he blossomed into one of the best defensive linemen in the SEC.
Kinlaw finished the 2019 season with 35 tackles and six sacks and earned first-team All-America honors.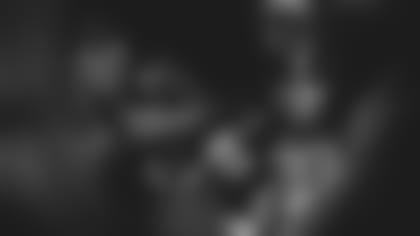 "I have everything to prove. I treat myself like I'm that guy still at the bottom," Kinlaw said. "I set my goals so high this season and I feel like I didn't accomplish any of them. That's just how I am. I am looking forward to going out and getting something done (this week in Mobile).
"I wanted to have 15 sacks (in 2019). I didn't even get close."
He did more than enough to get the attention of scouts and evaluators. Yes, that includes Carolina's NFL team.
"I know they like me, for sure. A whole lot," said Kinlaw, who told reporters he met with the Panthers in Mobile. "They have some free agency guys (on the defensive line), so I definitely feel like I could go in there and make something happen."
It sounds like that will be true wherever Kinlaw winds up.
"I didn't really expect myself to even be here," Kinlaw said. "You just can't give up on yourself."
View photos from the 2020 Senior Bowl practices and Media Day from Mobile, Alabama, as the Panthers coaching staff gets a look at the 2020 prospects.