CHARLOTTE – Football is the ultimate team game, but Sundays at the stadium also feature one-on-one marquee matchups that everyone's eyes are trained on.
Then there are other epic battles that only trained eyes notice.
Such was the case with Chase Blackburn and Heath Farwell, linebackers for opposing teams from 2005-14 who waged countless cosmic clashes on special teams.
"Every time we played his team, he was the guy our coaches always circled," Farwell said of Blackburn. "It always was, 'We've got to stop this guy.'"
"He was a nightmare," Blackburn said of Farwell. "He was a great player, the guy we'd always highlight on the scouting report."
Recently, Blackburn circled Farwell's name for a different reason.
And now, for the first time, they're on the same team.
"He was my number one guy, no doubt about it," said Blackburn, the Panthers' first-year special teams coordinator who chose Farwell to assist him. "I actually had some guys that I played with text me and say, 'You hired your arch nemesis.' We had a lot of battles over 10 years."
Now, as natural-born coaches who are relatively new to the coaching side of things, Blackburn and Farwell battle every day to insure that the Panthers' special teams units live up to the level they expected of themselves as standout players.
To say they're on the same page and that they've long been on the same path would be an understatement.
Both undrafted out of college – Blackburn out of Akron, Farwell out of San Diego State – they got their foot in the door as rookies in 2005 by getting the job done on special teams. Blackburn played eight seasons with the Giants, leading the team in special teams tackles each of the first six, before ending his career with two seasons in a Panthers uniform. Farwell played his first six seasons with the Vikings, earning a Pro Bowl nod in 2009, before ending his career with four seasons in Seattle.
Both retired after the 2014 season, stepped away from football in 2015, then got into coaching with their former teams. Blackburn began as a coaching intern with the Panthers two years ago but was promoted to assistant special teams coach before the 2016 season. He spent the past two seasons in that role, helping Carolina's special teams unit rise from 30th in 2015 to 21st in 2016 to 10th last year in sportswriter Rick Gosselin's annual rankings. Farwell was a coaching assistant for the Seahawks in 2016 and their assistant special teams coach in 2017.
While their paths have mirrored each other, they couldn't have predicted that they would have merged like they did.
"I'd tell him 'good game' and there was respect, but I wasn't going to go hang his jersey in my house. I might burn it," Blackburn said of their showdowns as players. "I had, I don't want to say 'animosity,' but I knew it was a challenge. I took it personal.
"One year I was the Pro Bowl alternate, and the next year he was the Pro Bowl guy. We had some back and forth like that, like who was leading the league in (special teams) tackles. It was always like that, the rivalry. But I got to know him a little bit personally and started to like him."
Now the two seem inseparable. There were the countless hours spent together during offseason workouts inside Bank of America Stadium, workdays usually broken up by a lunch and a run together. They often played basketball against each other on Wednesday mornings, and the Blackburns recently had the Farwells over for a cookout.
"I spend more time with him than I do with my wife," Farwell said. "We've been good friends for a number of years, and now coming down here we've become better friends."
Like most friends of their ilk, a friendly rivalry is alive and well. The cookout included a spirited Wiffle ball game where their kids weren't spared in the pursuit of victory. It's much the same during their basketball battle, when Farwell says he's "out there hustling, using my fouls" to guard the bigger Blackburn.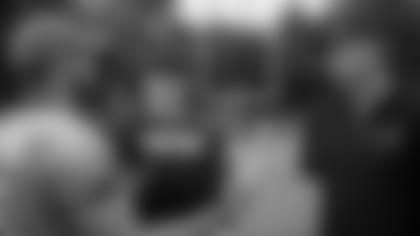 On the practice field during organized team activities, Farwell tried to even the score with some impressive work fielding Michael Palardy's punts.
"Heath makes some pretty incredible catches on Mike's punts," kicker Graham Gano said. "And there's definitely some, 'Look what I just did.'"
Blackburn jokes that he barely notices – except perhaps when Farwell falls short.
"Today he dove and about broke a rib. Landed on the ball," Blackburn said, pointing out why he went mostly unnoticed when he fielded practice punts in years past. "I did it all the last two-and-a-half years. Maybe I'm just a better athlete so I wasn't on the ground as much. He cracks me up, going sliding for the ball."
The rivalry is for fun now, but it does pay dividends for those still getting paid to make plays on Sundays.
"I played with Chase and I played against Heath a bunch of times. They're very competitive, and that competitive spirit brings some great things to the table," Gano said. "They're both bright, and they're always wanting to be better.
"They were very successful as players, and from what I've seen they're doing a great job as coaches as well."