CHARLOTTE – The Panthers could use a left tackle like Trent Williams.
The Panthers could have used a defensive tackle like Leonard Williams.
But those aren't the kind of bills they're looking to pay next week.
As the Panthers look ahead to free agency, their fans should expect a more understated strategy, but one that still looks to fill some starting jobs.
The legal tampering period to talk about deals with free agents begins next Monday, and the new league year and official signings can begin two days later. Tuesday was the deadline for using the franchise tag, and the Giants used theirs to keep Leonard Williams.
They're not the only ones planning to keep their biggest name off the market, with nine teams using the tag (along with the Cowboys, who filed procedural paperwork as part of their new contract with quarterback Dak Prescott).
The Panthers also used a significant chunk of their available money to make sure they didn't lose right tackle Taylor Moton.
While they had created around $30 million in cap space with a series of cuts earlier this offseason, the tag number for Moton is going to be around $14 million, cutting that nearly in half. Considering the cushion teams need to sign draft picks and to have flexibility for injuries during the season, it's not a ton of space to make a bunch of moves. They can create more with a few more restructures, though that just pushes money into future years.
Apart from securing Moton, the Panthers are in a bit of a holding pattern with their own free agents, which suggests most if not all of them will reach the market next week to see what their value is, along with a list of players around the league that grows by the day as teams make salary cap-driven cuts.
While some (specifically wide receiver Curtis Samuel) could find multiple suitors and big multi-year deals, most of the rest could come face-to-face with a year of buying and selling unlike any other.
With the salary cap shrinking from $198.2 million last year to somewhere around $180 million (after going up at least $10 million a year every year since 2013), the market will be tight for players, and teams will try to use that to their advantage.
There will certainly be a wave of big deals for a few marquee players (after teams knock the top off the best-available list with franchise tags and deals this week), but after things settle down, there will be a bit of a recalibration of the market by players and agents. Expect a pile of one-year contracts in the second phase of free agency, as many of what used to be the middle class of free agents hope to get to next year when the salary cap normalizes after a round of broadcast deals between the league and multiple networks.
As for reinforcements from outside, the Panthers have some starting jobs to fill, but aren't expected to fill them with the top names.
A year ago, they paid a market rate for quarterback ( Teddy Bridgewater ), but otherwise targeted players who were either known commodities to a new coaching staff, or could grow into bigger roles.
Safety Juston Burris and guard John Miller were solid finds, and they picked up a few useful parts, including defensive tackle Zach Kerr.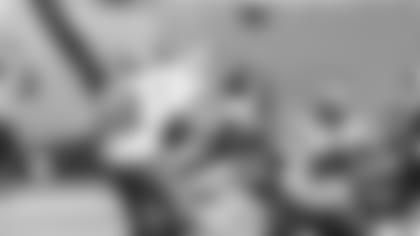 But in trying to project players into roles they hadn't played before, there were some misses. They gave defensive end Stephen Weatherly a two-year, $12.5 million deal, hoping the former Vikings backup could flourish as a starter. Instead, he had no sacks in nine games before a finger injury ended his season, and he was released.
Other forays into free agency were equally frustrating, as veteran cornerback Eli Apple didn't make it through the season, and linebacker Tahir Whitehead struggled with some injuries and eventually lost his starting job.
As head coach Matt Rhule heads into his second year, he should also have a better idea of what he has on hand and how to fit parts around them, and at which positions.
The Panthers have the extreme need on the offensive line (Moton and center Matt Paradis are the only returning starters), but they also could use later stages of free agency to find starters at cornerback, linebacker, and defensive tackle, among other spots.
They've continued to talk with Miller about a return, and finding a pair of starting guards is a priority in free agency. Beyond that, the act of filling in the depth chart will be more eventual than eventful, as this year's market could lead many teams to leave free agent holes to be filled after the draft.
While projecting specific names makes for good talk-radio banter this time of year, recognizing that the players might not be household names will be helpful. If you wanted to narrow the list, being under 30 years old and having positional flexibility are major plusses for potential candidates. It will be a targeted approach because the Panthers aren't in a position to justify spending on old guys with established resumes.
The Buccaneers just won a Super Bowl with a bunch of free agents, but there was a more stable base there (and then they added some guy named Tom Brady), so bringing in the Rob Gronkowskis and Antonio Browns and the Leonard Fournettes made more sense for them.
The Panthers aren't in that spot yet.
It might not make Charlotte the center of the NFL news universe for the next few weeks, but there should still be a few moves made as they try to fill in the blanks on the roster.
The Panthers still have one restricted free agent to deal with before the market opens next week in defensive tackle Efe Obada.
Obada recently changed agents, which has prevented much progress on a deal so far (since there's a five-day moratorium on business when players switch representation). He'll likely end up getting a restricted free agent tender, which will give the Panthers a chance to match any deal he'd get from another team.
Obada grew into a solid interior rusher last year, and his 5.5 sacks were second on the team.