CHARLOTTE – The first day of Carolina's mandatory minicamp was all about Cam Newton and his highly anticipated throws.
But it was also Gerald McCoy's first practice as a Panther after the prized free agent signed a one-year deal last week.
So while the offense was all excited about getting Newton back out there in some capacity, the defense was fired up to have a six-time Pro Bowl defensive lineman enter their ranks.
"Oh, he's the player that we've played against the last several years," head coach Ron Rivera said after Tuesday's practice. "Very pleased with what we got and I think it brought a little energy to the defensive line and the defense as a whole. Good players help make everybody else better."
Tampa Bay was all McCoy knew for the first nine years of his career. That made everything about Tuesday's practice in Charlotte a little strange. And also a little invigorating.
"It was different because I'm so used to knowing where to go and where to be and knowing what's coming," McCoy said. "I haven't played football since January. A little rusty. And then learning the new scheme, trying to get my technique right, doing what I've been doing for the last nine years and putting it all together. But overall, it was a solid day."
The weather certainly cooperated. There was a little chill in the air in the morning and the temperature stayed in the seventies throughout the session.
"This weather is wonderful. It don't feel like it's 110 degrees and humid," McCoy said. "In Tampa, you can see your soul walking on the field when you're still practicing. Here, it's not as humid."
As Rivera later pointed out, McCoy will learn that Charlotte – and of course Spartanburg – will provide plenty of humidity.
"He'll get a good feel for that," Rivera joked.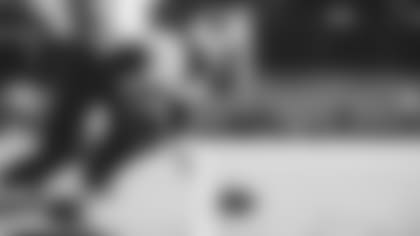 McCoy is getting a feel for everything right now. It's a new environment, a new defense, and it takes some time to adjust.
The main takeaway from McCoy's debut was effort. He was always among the first, if not the first, defensive player to take the field when team drills began.
He made a strong first impression.
"One thing I'm always going to do is when they say, 'Gerald, go' I'm going to go as hard as I can," said McCoy, who lined up at end and tackle. "And how I was raised, my dad always told me, 'Take the field.' Get out there and be ready. When they come out you should already be out there ready to go. Don't have them waiting on you. That's just how I am. I'm like that on game day.
"Whether I know what I'm doing or not. One time I ran out there and I was like, 'Yeah, let's go!' And they (defensive coaches) called something and I was like, 'Oooo.' Hey listen, if all else fails, get off the ball."
The 6-foot-4, 300-pounder said he may have snuck up on Christian McCaffrey after the star running back sprinted into the secondary.
"One time Christian broke up the sideline and he turned around – he was like 40 yards downfield and I'm right next to him – and he was like, 'What the heck!'" McCoy said. "That's how I practice."
McCaffrey, though, said he wasn't surprised.
How McCoy practices is how he plays.
"I've been playing against him the last couple years. I know the juice he has," McCaffrey said. "It's awesome seeing vets like that who have been there, done that and finish. He's going to be a great addition to our team. It's fun to have him out here."
View photos from the first day of Carolina's three-day minicamp.