The best offense is good defense: Over the course of the Ravens' 23-year existence, it has seemed like their vaunted reputation as a stingy defense has preceded them time and time again, regardless of the personnel.
2018 has been no exception.
Since head coach John Harbaugh took over in 2008, Baltimore has finished in the top 10 in total defense seven times; three of those instances were top three finishes. Coming into their Week 8 showdown against the Panthers, the Ravens rank first in the category.
Since holding the Bills to three points in a Week 1 win and before giving up 34 to the Bengals in a Week 2 loss, the Ravens have limited their last five opponents to a combined 64 points, going 3-2 in that span. Even after a devastating 24-23 loss to the high-powered Saints in Week 7, the Ravens still lead the league in fewest points allowed per game (14.4) - 101 through seven games - and yards allowed per game (280.6).
In their Week 6 shutout of the Titans, Baltimore made headlines when they set a franchise record by recording 11 of their league-leading 27 sacks in a dominant showing. Thirteen different Ravens have recorded at least one sack in 2018, chief among them being Pro Bowl linebacker Terrell Suggs.
At 36, Suggs is one of the NFL's elder statesmen but he has been a huge part of the franchise's defensive identity since being drafted in 2003. Against the Titans, Suggs notched one sack, bringing his total to 5.5 on the year to tie him with linebacker Za'Darius Smith, who had three in the win. Smith is 10 years Suggs' junior, but the playmaking ability the 2015 fourth-round pick has brought alongside him this season has been vital.
In addition to Suggs and Smith, a young trio of inside linebackers (Pro Bowler C.J. Mosley, Patrick Onwuasor and rookie Kenny Young), a stout linemen group (defensive tackle Brandon Williams and defensive ends Brent Urban and Chris Wormley) and a secondary led by safeties Tony Jefferson and savvy veteran Eric Weddle, have all combined to help wreak havoc on opposing offenses.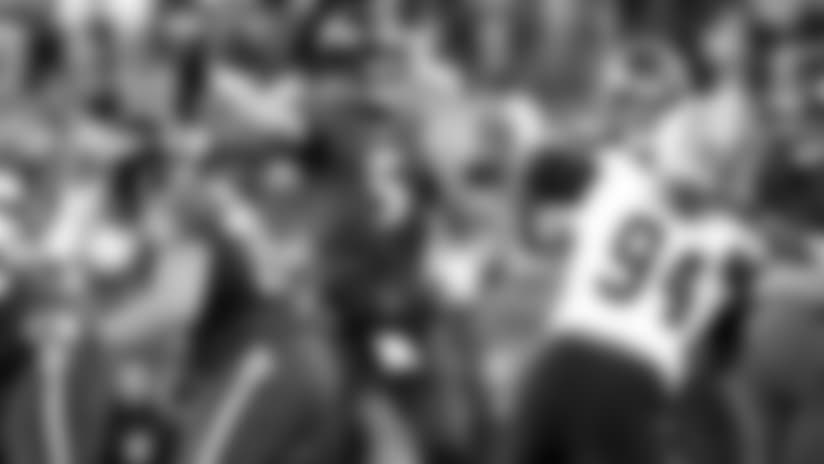 Flacco and the offense: Not being flashy may not earn you any "Plays of the Week", but being solid will at the very least give your team a chance more times than not.
In his 11th season, quarterback Joe Flacco has continued to display the consistency that has made him one of the more reliable options at the position. Through seven games, Flacco has thrown the fifth-most passing yards (2,067) and is one of eight QBs to tally at least 11 touchdowns and four or fewer interceptions to this point in the season.
Similar to Flacco, the rest of the offense won't flood your timeline with highlights, but each can impact the game in their own way. As a whole, the offense ranks ninth in total yards per game (387) and 15th in points per game (25.1)
Flacco's 71-yard TD bomb to speedy wideout John Brown certainly provided some excitement in Week 4, but a 1-yard rushing TD by rookie quarterback Lamar Jackson in Week 7 has been one of the most exciting moments for Baltimore's fan base. The former Heisman Trophy winner, who is extremely dangerous with his legs, has played 59 snaps and has accumulated 29 passing yards and 103 rushing yards on 20 carries. Offensive coordinator Marty Mornhinweg has experimented off and on with two quarterback sets, so it wouldn't be shocking to see Flacco and Jackson share the field at some point in Week 8.
A foot away: Guess he was due to miss eventually.
Kicker Justin Tucker had made all 222 of his extra-point attempts before missing the one that would have likely sent their Week 7 game into overtime. Had Tucker made the kick and the Ravens went onto win in OT, they would have a 5-2 record atop the AFC North. Instead they find themselves tied with the Bengals at 4-3 and looking up at the Steelers, who are 3-2-1.
Tucker's miss was a topic of discussion on just about every form of NFL media over the last few days, but the moment emphasized an underlying issue. While the Panthers were being labeled the "Cardiac Cats" on Sunday, the Ravens turned into the "Bad News Birds." Over the past two seasons, Baltimore is 0-6 in games decided by six points or fewer, and have now gone 674 days since clawing out a "close win."