CHARLOTTE – Having depth at left tackle is a luxury in the NFL. Really, depth anywhere on the offensive line is rare.
This year the Panthers were forced to see just how deep their reserves were in the trenches, as a series of injuries led to a never-ending rotation of bodies along the line. As a result of the shuffling lineups, the Panthers were able to test out a pair of rookies at left tackle – and the experiment yielded mixed results.
For the first three weeks of the season, Daryl Williams held down the left tackle spot, but before the Panthers trip to Houston, an injury to Trai Turner pulled the veteran to the right side of the line. Thus began the rookie auditions to protect the quarterback's blindside.
Second-round pick Greg Little got the first crack at it, earning the starting job in Week 4, but his stint didn't last long. Little suffered a concussion against the Texans – his second of the young season – which prompted the Panthers to be much more cautious with his return to action. Little didn't see the field again until Week 11.
"It's hard without a rhythm. Veterans can be hurt and come back in and get back in rhythm," Little explained. "As a rookie, you kind of count on being on rhythm and staying on pace. I kind of lost that coming back and then not coming back."
In his stead, Carolina tested out sixth-round pick Dennis Daley, who ended up starting nine games for the Panthers. Daley made his debut at left tackle in Week 6 against the Bucs and quickly found success. After his first start at the new position, Pro Football Focus named Daley to its NFL Team of the Week as the highest graded left tackle in the league with a score of 86. But as most rookies do, Daley stumbled occasionally throughout the season, and finished the year with an overall player grade of 58.3, according to PFF.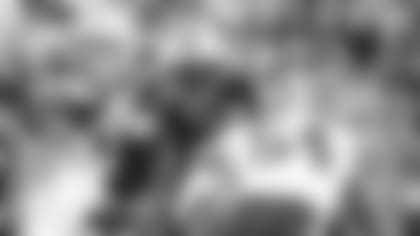 "It was tough, man, but it's something I can definitely learn from and use for the future," Daley said of his ups and downs. "It's something he (Little) can learn from, too. It was a big learning experience for the both of us. Coming in, getting in a situation like that, me being a sixth-round pick, it's rare that I would step in and play. I beat the odds. I just made something happen and I'm thankful for everything – the good and the bad."
Both Daley and Little played their college ball in the SEC, the conference often referred to as "NFL Junior," but the two agreed that it's still nothing compared to the NFL. In the league, there are certain things you can't get away with, and Little found out the hard way.
"I can't rely on my athleticism so much, but relying more on technique," Little said. "I did that more in college, but you're not going to be able to do that even against a guy who people might not consider as elite. Everybody is elite."
Daley agreed with Little's evaluation of the talent difference between college and the NFL. And as a rookie, at times he felt he was at a significant disadvantage against the veteran pass rushers lined up across from him.
"Going against a lot of veterans that know how to work their game, they know how to counter off what I do," Daley said. "I'm just learning, and I've got to learn mid-game and they've already got it in mind, like, 'I'm going to do this if he does that.' Going against the vets and seeing that it's really, really different from college, there's really a big difference in the players."
Now with a bit of experience under their belts, Daley and Little are turning their attention to making progress this offseason. They don't yet know who their head coach will be or who might be added to the mix via free agency or the draft this offseason.
But Little and Daley formed a bond as rookies in 2019, and that will continue no matter the circumstances.
"Me and him were tight from day one," Daley said. "When we both got drafted, I reached out to him and we were talking about the playbook we got. It was hella thick, so we talked about that and we've been talking ever since. We got here and we did everything together. We went out to eat, we'll talk about our plays, what we're doing for the day. We pretty much just push each other."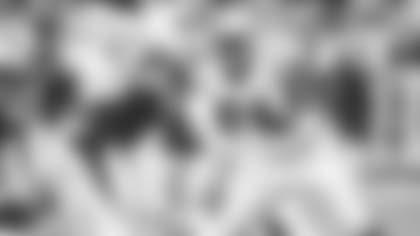 Added Daley: "We always had the mindset that whoever got that spot had to keep it, but we never talked about it like, 'Oh, I'm coming in here to beat you out.'"
Right tackle Taylor Moton witnessed their relationship grow firsthand. As a veteran, Moton served as a mentor for both of the rookies, and it helped that his locker was right in between theirs. But Moton said that whatever he gave them, it was nothing compared to what Little and Daley provided for each other.
"I didn't get the luxury of having another rookie offensive lineman come in with me, I was the only one," Moton said. "I'm happy they've got each other, because I know how hard that rookie season can be. It's good to have someone you can bond with like that and talk to about things."
That's especially true for rookies fighting through injuries like Little, who missed 12 games this year.
"Dennis was a real positive for me, keeping my mind right," Little said. "That's my bro right there. We've been through a lot in our first year together."
As they look ahead to the future, both linemen are focused on something former head coach Ron Rivera always emphasized: position flexibility. That way, if one of them earns the nod at left tackle, the other might still be able to see the field, too.
"When I first got here, I was the right tackle," Daley explained. "I played right tackle here and he was the left tackle, then I jumped around from right tackle to right guard, left tackle, left guard, everywhere except center.
"Whatever you can do. The more you can do, the longer you stick around, so if I can play left tackle, right tackle, right guard, I'll do it. I'm open for it. Whatever for the team."