CHARLOTTE – The Panthers' offseason work along the offensive line has people buzzing, and speculation about how the pieces will fit together has run rampant.
Rookie Greg Little at left tackle with Taylor Moton staying put at right tackle and Daryl Williams moving inside to left guard? Moton moving to left guard and Williams returning to right tackle?
The one thing consistent about the theories being bandied about?
"That's all right. I'm fine with that," said Van Roten, the Panthers' starting left guard last season and the only player to play every snap on either side of the ball. "I've flown under the radar most of my career and I think I've done OK so far. And honestly it's good because Greg being drafted is huge, and so is having Daryl back.
"There's going to be a lot of competition, and we're going to go with the five best guys. I don't think anybody's got a problem with that."
And Van Roten, despite his lack of mentions in the mix, believes he has every chance to be among the five that take the field when Carolina opens the regular season on September 8 against the reigning NFC champion Rams.
"That's a proven starter right there," perennial Pro Bowl right guard Trai Turner said of Van Roten. "I don't think he has any doubt in his mind he's going to be there. We've got a lot of competition, which isn't a bad thing. He comes out here each day trying to improve, and that's what he's been doing."
With Turner getting some reps off at organized team activities and with Williams and new center Matt Paradis not yet taking reps while they continue to rehab injuries, head coach Ron Rivera said training camp will be key to the Panthers figuring out their starting five.
Van Roten was consistently mentioned by Rivera as a possible answer at left guard this time last season after Andrew Norwell signed with the Jaguars in free agency, but no one seemed to pay much attention. But that began to change when tackles Williams and Matt Kalil were injured in the preseason and Moton started working at right guard.
"I know from experience that you could be the third-string center and then all of a sudden you're starting at left guard," Van Roten said. "I've always had a starter's mentality. I've always been ready to go. And to actually be able to play all the snaps, that was quite an accomplishment for me with everything I've gone through in my career."
Undrafted out of Penn in 2012, Van Roten got a shot with the Packers and stuck for two seasons before he found himself out of football in 2014 – unless you count coaching high school football. Van Roten then played in the Canadian Football League in 2015 and '16 and emerged as one of the league's best linemen. That drew the attention of the Panthers, and then seemingly out of nowhere Van Roten made the 53-man roster in 2017 and joined the lineup in 2018.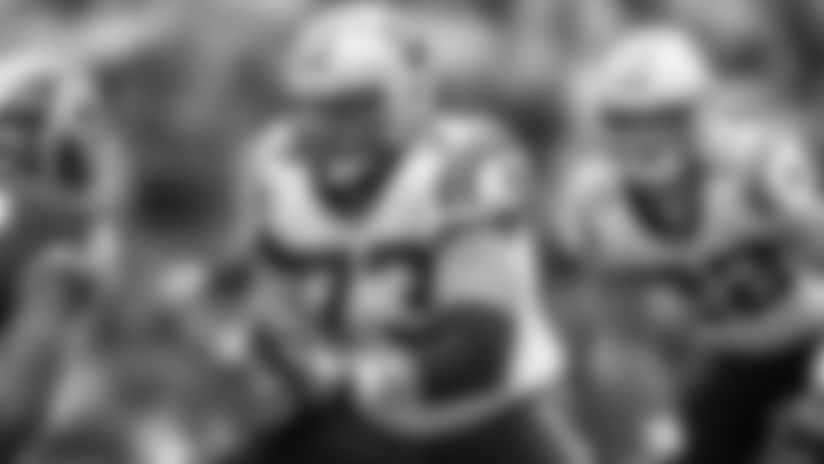 Despite the left side of the line featuring Week 2 veteran signing Chris Clark at tackle and Van Roten at guard, Van Roten believes the line performed better than perceived in 2018. The Panthers averaged an NFL-best 5.1 yards per carry, and just five teams gave up fewer sacks than the 32 that Carolina allowed.
"We had a bad season so someone has to take the fall, and I feel like the O-line got a little bit of flack that we didn't necessarily deserve," Van Roten said. "But at the end of the day we were 7-9 and we didn't get the job done. If we need to rush for six yards and have Cam sacked 18 times (the number allowed by the league-best Colts) this season, then that's what we have to do."
With center Ryan Kalil now retired, Turner has taken on more of a leadership role, but quietly Van Roten is doing some of the same. He's helping Paradis get up to speed on a new system and helping Little get up to speed on everything.
"I think we have a lot of hungry guys," Van Roten said. "You're seeing that during practice, and that's good. That's what you want.
"You don't want complacency, especially after the season we had last year. You want guys that are going to work hard and do what we need them to do."