I want to say thank you to the Carolina Panther fans, thank you to the ownership – both old and new – thank you to the faculty, all my coaches, my teammates, my family and friends. We're all born with a dream inside of us and it's frightful to put that into action because you know the world will be there to tell you when you fail. But compare your life to your life, know that there's greatness inside of you and a winner isn't nothing but someone who gets up when they're down. So in the words of my great friends, The Avett Brothers, some of the greatest men North Carolina has ever produced: "decide what to be and go be it." Thank you.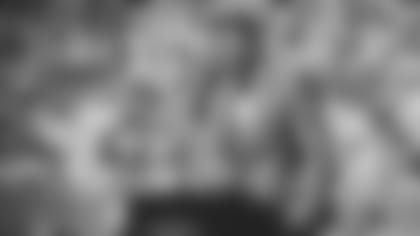 It took me seven long years in the NFL before I finally became a Carolina Panther, but I knew good and well in my heart when I landed here in 1996 that I had finally found a home; a home for my football career and a home for my family. I'm so grateful to the Panthers organization for giving me this opportunity. I'm grateful for the Carolina Panthers fans, the city of Charlotte and both states. I'm honored to have my name on this stadium. I'll be a Panther forever. I'm finally home.
Thank you so much. I'd like to echo exactly what Jordan said and thank the old ownership and the new ownership: David (Tepper), Nicole (Tepper), Marty (Hurney), Tom (Glick). This is the greatest sports day of my life. It started here in this stadium at halftime of the Jacksonville Jaguars game in 2003, that's when I was in that locker room, against this team, and I got the call. I never wanted to let you down. I came in week in and week out, trying not to let them down, trying not to let our team down, not to let you down. There's nothing finer than to be in Carolina. Thank you so much.
I'd like to thank Mr. (Jerry) Richardson and Marty Hurney for drafting me and I'd also like to thank Mr. (David) Tepper for bringing me back. I'd like to thank George Seifert for drafting me, John Fox for believing in me, and Coach Ron Rivera for giving me a chance as well. I never thought I'd be back in this stadium but I am and I'm happy to be here. I love the fans and I love this city that invested in me. I never thought I'd be able to wear a Carolina Panthers jersey ever again so I thought for one last time I'd put it back on. Now the next step: make sure nobody ever wears this number again.
View photos from the halftime ceremony where the Panthers inducted Steve Smith Sr., Jake Delhomme, Jordan Gross and Wesley Walls into the team's Hall of Honor.