CHARLOTTE – Who is the best wide receiver in the NFL? That's a legitimate debate with several candidates.
But the statistics point to one player in 2019.
Saints wide receiver Michael Thomas leads the NFL in receptions (94) and receiving yards (1,141). The next closest player in receptions is DeAndre Hopkins with 75 and Mike Evans is second in yards with 993.
Panthers No. 1 cornerback James Bradberry is coming off one of two annual matchups against Julio Jones – considered by many to be the most talented wideout in the NFL. He's already faced Evans twice and he battled Hopkins earlier in the year.
Now he's got a Week 12 matchup against Thomas, who is on pace to break Marvin Harrison's record for catches in a single season (143). He's also riding a four-game streak with at least eight receptions and 100 receiving yards. Only three players (Isaac Bruce, Anquan Boldin and Calvin Johnson) have done that in five consecutive games.
"There's a reason why he's one of the best in the league," head coach Ron Rivera said of Thomas.
Consider this: Thomas leads the NFL in targets with 114, and he also leads all wide receivers in catch rate at 82.5 percent.
"I know he's going to get the ball," Bradberry said. "That's their main guy. He makes their offense go."
Quarterback Drew Brees looks to Thomas often, and he almost always delivers.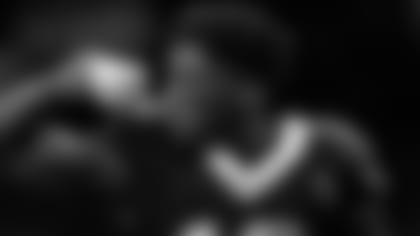 "I think the biggest thing that he does that the really, really good receivers do, is they go get the ball," Rivera said. "He runs good routes, he runs ahead of people, but he goes to get the ball. He doesn't let the ball come to him. That's a quarterback's best friend."
Here's Bradberry's assessment of the 6-foot-3, 212-pound wideout: "He's a big-bodied receiver with a huge catch radius. Strong hands. And then you add in the fact that he has Drew Brees, who throws a very accurate pass. That makes (Thomas) more dangerous."
Saints head coach Sean Payton also makes Thomas more dangerous with the variety of ways he'll look to involve the former first-round pick. Thomas lines up at multiple locations and his route tree has expanded over the years.
"They do a good job of finding ways to get him the rock, whether it's lining him up at 1, 2, 3 or motioning him to get guys off of him in the press," safety Tre Boston said. "They find ways to get Mike Thomas the ball. But for us, we have a guy in James Bradberry who we trust every time."
Bradberry has a very respectable record against Thomas. In six regular season meetings against Carolina, Thomas has been held under 100 yards and with no more than seven catches. He did go off for 131 yards in that 2017 Wild Card playoff.
Last year, Thomas finished with 49 yards in the first outing and just 29 in the second matchup.
Combine that with his impressive record against other NFC South rivals Jones and Evans, and Bradberry, who has been at a Pro Bowl caliber level this season, has reason to feel pretty good about his standing.
"You want to earn their respect when you against those guys," Bradberry said.
The former second-round pick from Samford has done that through the course of four seasons, and his team counts on him to rise to the occasion in these headline one-on-one matchups.
Evans, the rival from Tampa Bay, went out of his way to give Bradberry his due earlier this year. So too did San Francisco cornerback Richard Sherman, a player Bradberry looked up to when he was refining his game at the college level.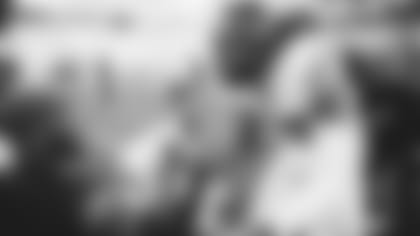 "Richard Sherman said he respected my game after we played them. That meant a lot," Bradberry said. "He's one of the OG's in the game. I watched a lot of film on him coming out of college."
Sherman can relate to what Bradberry goes through week to week. The life of a No. 1 corner can feel unrelenting at times, especially when you've got Julio Jones and Michael Thomas in back-to-back games.
"Thomas always does the Popeye arm thing – that's what I call it," Bradberry said of Thomas' signature celebration. "My whole goal is to make sure I don't get the Popeye arm."
Bradberry knows the spotlight will be on him. And he's planning to flex his own muscles on Sunday.