CHARLOTTE – Jonathan Stewart and his wife, Natalie, believe that things come full circle in life.
So it was only right that Stewart returned to Bank of America Stadium on Tuesday and signed a one-day contract to retire a Panther.
Stewart spent the first 10 years of his career with Carolina, the team that selected him in the first round of the 2008 NFL Draft, and he became the franchise's all-time leading rusher. He spent the 2018 season with the New York Giants, but injuries limited him to just three games.
After signing his one-day contract with his daughter and wife by his side, Stewart made his way onto the field where former teammates were waiting for him. After a dramatic slow-clap, running back Christian McCaffrey emerged with a framed Stewart jersey as a retirement gift.
"I just feel honored to be back here and see my guys," Stewart said. "For them to make a moment for me, it means a lot. I know I have an organization that cares and supports my career and what I brought to the table."
Stewart brought a lot to the table. A rare blend of speed and power, he was a nightmare for defenses to corral.
He relentlessly fought through contact to gain every possible inch.
"I would hope they'd say he was the last of dying breed. A guy who did his job and gave it everything he had. And he ran with purpose," Stewart said when asked how he hopes fans remember him as a player. "At the end of the day, that's the best compliment I could receive – that I ran with purpose. Because I did.
"God gave me the ability to run and the size that I have. I had the passion to put it all out there every time I stepped on the field. It was definitely running with purpose."
There are tons of examples of Stewart running with purpose throughout his career. But his favorite highlight came courtesy of his Monday Night Football debut against Tampa Bay during his rookie season in 2008.
Late in the game, he bounced outside and found himself one-on-one with decorated Buccaneers cornerback Ronde Barber. Stewart delivered a legendary stiff-arm and literally bounced Barber off the turf.
"The first image that comes to mind is me stiff-arming Ronde Barber on Monday Night Football," Stewart said with a smile. "That was the first time where I had an emotional experience before the game. I knew back home my old college teammates were watching me after their practice. That's what we used to do. We'd sit around the TV and eat and talk about making it to the pros or watching guys that once played with us.
"To have that moment come like it did, just the mindset that I had was on a whole 'nother level. And I went out there and performed on a whole 'nother level -- me and DeAngelo (Williams). That was a fun night. One of the most fun nights of my career."
Another fun memory? Back in 2009 – his career best 208-yard performance against the Giants and "shutting down Giants Stadium," as Stewart put it. That was New York's final home game before moving into MetLife Stadium.
And of course, there's Super Bowl 50. Stewart scored Carolina's only touchdown in typical Stewart fashion – leaping up over the pile – in that gut-wrenching defeat against Denver.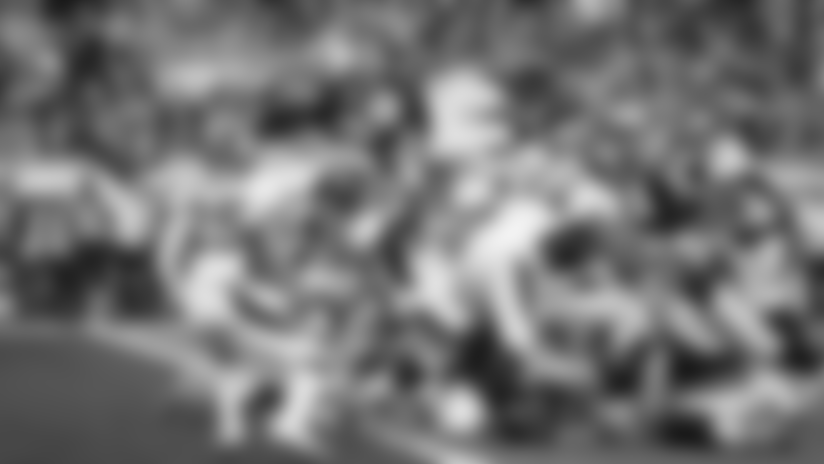 "The Super Bowl left such a bitter taste in my mouth," Stewart said. "But you have to really be thankful for your opportunities. You can't waste your time being bitter. I'm grateful for that moment and scoring that touchdown. It was an amazing experience that I'll never forget."
It wasn't always a smooth ride for Stewart, who battled a series of injuries during his 11-year career, partially as a result of his wrecking-ball running style. But the game was good to him.
He found a home in Charlotte with the Panthers. And there's no place like home.
"There are a lot of guys who give their whole lives to the game of football and walk away with nothing – or at least the feeling of nothing," Stewart said. "This game has given me a lot. This place taught me what it means to be a professional and to have the right priorities, even in such a production-based business. That's what makes Carolina so special.
"Being a Carolina Panther prepared me for the rest of my life. That's how I see it."
View photos of former running back Jonathan Stewart signing his one-day contract and retiring as a Carolina Panther.