How do your favorite players stack up in a historical context?
Fans love to see their sports heroes recognized as the best, greatest, most-worthy of an honor. These designations can spark endless debate over things like what could have been or what would have happened if X, Y or Z fell into place a certain way.
Is there a case for Christian McCaffrey,who going into the Panthers' bye week ranks among the league leaders in multiple categories, soon staking his claim as the best dual-threat running back in the league?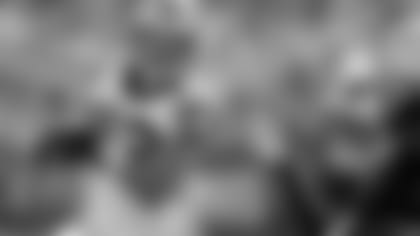 McCaffrey has made some serious strides as the Panthers' lead running back in 2018 and enters the bye week with performances that could make his critics – we like to call them non-believers – say adios.
Through the first three weeks, McCaffrey has amassed 271 rushing yards – third most in the NFL – and 5.9 yards per carry. His 46 carries are tied for the ninth most in the league, placing him next to Todd Gurley of the Rams and Ezekiel Elliott of the Cowboys as the only backs to have 250-plus yards with at least 45 attempts. McCaffrey had more yards than Gurley through Week 3 and three fewer than Elliott but fewer attempts than both.
Now that we got through those numbers, let's move on to some more. McCaffrey's 14-reception game vs. Atlanta in Week 2 and his career-high 184 rushing yards against the Bengals a week later made him the first player in franchise history to follow up a 100-yard receiving game with a 100-yard rushing game.
Impressive, right? Oh, and if you think McCaffrey's versatility already makes him resemble somewhat of a superhero, take a look at how he "Hulk-smashed" this Falcons defender:
After adding six pounds of muscle during the offseason, McCaffrey has already produced several "Kodak Moments" for a couple of unlucky defenders. You could see the struggle all over Atlanta safety Jordan Richards as he tried to bring McCaffrey down. Plays like this are one of several McCaffrey has put together this season. There were even a couple blink-and-you'll-miss-it broken tackles in the Bengals game.
It doesn't take somebody with the analysis skills of Mel Kiper and Todd McShay to understand that what McCaffrey is doing is setting him up for a future of greatness. Is it possible that he could become the league's best dual-threat running back in only his second season?
Should McCaffrey continue his hot start against the Giants in Week 5 and beyond, he will be on track to accomplish a rare feat. Since 2009, only two backs have finished in the top 15 in rushing yards and receptions, the most recent being Steelers running back Le'Veon Bell. In 2017, Bell was third in rushing yards with 1,291 and 10th in receptions with 85 for 655 yards. The other was Chicago's Matt Forte, who finished 15th in rushing and fourth in receptions in 2014.
At 26, Bell has been often regarded as the best modern-day back, but the comparison between he and McCaffrey has come up more than once over the last year. During the 2017 NFL Scouting Combine, McCaffrey addressed how Bell's playing style had influenced him. "One time, he kind of hit me up on Twitter. I started picking his brain on some plays, sent him some clips cause he's a heck of a running back," McCaffrey said. "(He's) somebody I like to model part of my game after. He's been very helpful."
Is it possible that Bell could have been the Ip Man to McCaffrey's Bruce Lee and enlightened him on how to "be like water" and exploit what the defense gives within the flow of the game? Maybe so.
McCaffrey, a rookie in 2017, finished ranked 14th in receptions with 80 but fell short of the top 25 on the ground Currently, C-Mac, as he's known amongst his teammates, is ranked third in rushing yards and eighth in receptions. Only he and Giants rookie Saquon Barkley (seventh in rushing, ninth in receptions) are top 15 in both fields.
Let's also shed some light on the fact that McCaffrey was being discussed as one of the top slot receivers in the 2017 NFL Draft due to his route running and catching abilities. As a true sophomore at Stanford in 2015, McCaffrey broke the NCAA single-season all-purpose yards record set by a guy named Barry Sanders in 1988. Yes, that Barry Sanders.
Prior to the draft, McShay said on "The Dan Patrick Show" that McCaffrey is a matchup nightmare. "You're going to give ten or so carries a game but you also can legitimately put him in the slot," McShay said. "I think he's one of the two or three best slot receivers in this class." High praise that McCaffrey has – literally – ran with early in his career.
Sure, three games into Year 2 is a relatively small sample size. Yes, the NFL has become, like most pundits will tell you, more of a "passing league." But, don't allow that to take away from the fact that McCaffrey has continued to put up numbers and shut up his detractors. It's up to the players to maximize on their opportunities, and that's exactly what he's been doing.
Given the relatively small sample size, I'm sure some of you are still not convinced that you should join the CMC bandwagon. OK, think of it like this: if your local grocery store is offering free samples of a new drink and you buy three bottles based off how much you like the sample, does it mean you're overreacting to its quality?
Not necessarily. Make no mistake about it: Whether it's Game 4 or 40, the kid's got the juice.
And there's every reason to believe McCaffrey can use every tool in his repertoire to end up in the end zone as the NFL's best dual-threat running back.