CHARLOTTE – What if Kawann Short stayed healthy?
Panthers fans asked that question a lot as the 2019 season unfolded. Coaches must have thought about it themselves.
The Pro Bowl defensive tackle – voted a team captain for the first time – played in just two games before going on injured reserve. He had shoulder surgery and was forced to prepare for 2020. All of that took a toll on Short, who only missed two games over his first six seasons.
"It was just tough watching in general, from the day I was diagnosed with a torn rotator cuff to now," Short said during locker cleanout Monday. "All I know is playing. Six of my seven years I played injury-free. This was the most gruesome injury that I've ever had in my football career. It was something that – I just didn't know what to do or what to say.
"It was a personal thing for me trying to get my mind right."
It was a struggle for Short. He felt lost.
"I was just trying to find a reason why that happened to me when it did," Short explained. "But it opened up my eyes. I slowed down and had to think about what's important. I was able to be a stay-at-home dad for a while with my daughter, and that was definitely enjoyable."
Short eventually became more and more visible in the locker room and on the sideline during games. It was nice to be around the guys, but the loses (and the rushing yards & touchdowns surrendered) kept piling up. And there was nothing he could do to change that.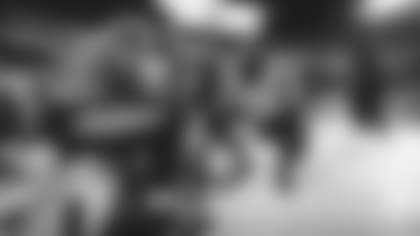 "I tried to be vocal with what I was seeing from a fan standpoint. If there was some negative stuff, I said it without holding my tongue," Short said. "It's tough. It was even tougher not being able to help. We had the right guys. We just couldn't put it together. We know it's a win now league. That's what needs to get done."
As the Panthers enter the offseason in search of their next head coach, Short believes everyone's future is uncertain.
"Everyone besides Christian and Luke," Short said with a laugh. "What have you done for me lately? I've been injured. Nothing surprises me anymore."
The defensive front is going to look a lot different. Mario Addison, Gerald McCoy, Bruce Irvin, Vernon Butler and Kyle Love are all on expiring contracts. The Panthers have a decision to make regarding Dontari Poe, who has a team option available.
Short is a key cog, and having him healthy and leading the front line will be a welcomed sight in 2020.
"It's a new start. Mentally and physically I feel good," Short said. "My expectations are to come back healthy and do what I do. Have to get this team back to what we do around here. Stop the run and get after the quarterback to help the guys behind us. I can't do that by myself. Hopefully, a lot of these guys are ready to take on that journey and take on that task."
View photos of players cleaning out their lockers as the Panthers wrap up the 2019 season.