Columbia and Clemson. Rock Hill and Kitty Hawk. Greenville and Greenville.
And of course Charlotte. And points between and betwixt. So many points.
The Panthers are the story throughout the Carolinas on football Sundays, with fans from both states crowding into Bank of America Stadium or in front of televisions to cheer on their favorite team. But today, on a perfect spring day throughout the region, the Panthers were the ones cheering on the communities that back them.
May 1 – or 5/1 in honor of the late Sam Mills, who proudly wore that number - marks the first Keep Pounding Day around the Carolinas.
And the Panthers very much were around the Carolinas.
"It happens to be our 25th season coming up, so we wanted to get to 25 cities simultaneously," said team president Tom Glick, who spent his day in Greenville, S.C., reading and distributing books to second graders at Cherrydale Elementary School. "Here we're working on literacy, which is also what we've done in Charleston today. We're working on hunger relief in Spartanburg, working on beautification in Myrtle Beach, youth health and wellness in Columbia and Aiken. It's a whole variety of programs, each one tailored to their community.
"This is all about making a difference."
Mills was a difference maker on and off the field, the heart of Carolina's defense in its earliest days who also put his entire being into fighting cancer before succumbing to the disease in 2005. That's the same year his son, Sam Mills III, joined the Panthers coaching staff.
Wednesday, Mills joined about 10 of his fellow coaches, about 10 current players and about 10 staff members on a Habitat for Humanity of Charlotte build. Mills shifted between the two houses the Panthers and Lowe's were helping build on a street that will eventually feature 21 Habitat homes.
"My father was really into this stuff," Mills said. "We moved a lot, and I can remember him doing a lot of projects around the house. This would be right up his alley."
Mills III didn't inherit the do-it-yourself gene, but philanthropy is in his DNA.
"This is a very important day for my family. My father had a vision for helping others and being a part of this community," Mills said. "I'm ecstatic. We've done a few things with the Keep Pounding 5k and the blood drive and a few other events, but to pull it together like this and have our entire organization help out is great.
"And it's great to see our players here, taking their free time after a long day on the field and with meetings to give back."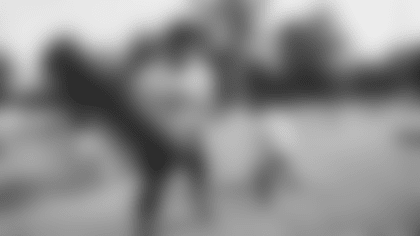 Speaking of, quarterback Cam Newton was among the Panthers' representatives who headed to Columbia, S.C., to help run a Play 60 camp. About 150 kids who attend after-school programs were surprised by Newton and a group that included fellow quarterbacks Kyle Allen and Taylor Heinicke and wide receivers DJ Moore, Jarius Wright and Torrey Smith.
"For us being down here, it really shows the two Carolinas. All love to everyone in Charlotte, but this is the Carolina Panthers," Smith said. "So to have the opportunity to come on down here to Columbia and see some of the kids who may not have the opportunity that kids in Charlotte have is pretty cool.
"It's one thing to have this mantra that everyone kind of gets behind, but it's real. People from all over the organization are all over the Carolinas today, so it's pretty special to be a part of it."
Team president Tom Glick leads contingent to Greenville, S.C., for a reading event with second graders - a part of the Panthers' presence in 25 cities.