CHICAGO – The Panthers' backup quarterback competition has been even through the spring and summer. It's hard to think the preseason opener created much separation either way.
Kyle Allen and Will Grier each had OK nights against the Bears. They both made some smart decisions. They each made throws they'd like to have back. Mostly, they were the 'e' word.
"I'd say they were very efficient," head coach Ron Rivera said. "They both had their moments early on where they kind of struggled a little bit just trying to settle themselves down. You could tell because they threw a couple of balls high early. Then as they got more and more comfortable, you saw them become more proficient with their decision making.
"Will just needs to speed up his process a little bit more. … There were a couple times I think I'd much rather see (Allen) just pull the ball down and run and take what they gave him."
Allen led Carolina's first three drives which produced a pair of field goals. His most notable throw came on a 16-yard crossing route to tight end Ian Thomas. But three times Allen misfired when targeting wide receiver Aldrick Robinson, including an attempt in the end zone from the Chicago 24-yard line.
"I needed to put it in his hands instead of five yards in front of him," Allen said.
Still, it's worth remembering just how far Allen has come. Last preseason, he was a fourth-stringer playing behind Cam Newton, Taylor Heinicke and Garrett Gilbert.
"I think at this time last year, I had gotten a total of like five reps during camp," Allen recalled. "Obviously, my place on this team is different at this time this year than it was last year.
"There's a little more confidence and there's more responsibility on me this year. I'm a different part of this team this year. So I've got to take that responsibility, I've got to be a leader more this year and I've got to get things going."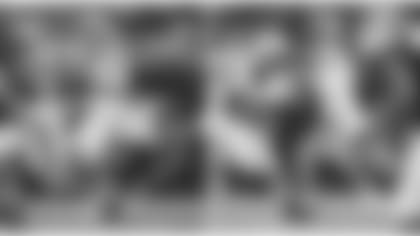 Grier, who took over early in the second quarter, led five drives that totaled 10 points. After rookie running back Elijah Holyfield fumbled on the second play of Grier's first drive, the Bears got another takeaway when safety Deon Bush tricked the rookie quarterback.
"That guy just jumped the dig route the tight end was running," Grier explained. "I thought (tight end Jason Vander Laan) was going to be able to run underneath him because I thought he was playing Cover-2. But he was down and just jumped it and I didn't see it. I've got to be better."
Grier was better in the second half.
After seventh-round wideout Terry Godwin returned a punt 57 yards to the Bears' 28, Grier hit wide receiver DeAndrew White for a 15-yard gain before swinging a 7-yard touchdown to rookie running back Elijah Holyfield. A drive later, Grier went 4-for-6 for 34 yards while adding a 20-yard scramble to set up kicker Joey Slye for a 29-yard field goal.
"I wasn't jittery or anything like that. I think it's just a matter of settling in," Grier said. "Knowing the offense and practicing is one thing and getting out here and getting game reps is different (with) just how everything works and how the offense is called in a game. So those were great reps, a great learning experience and something to build on.
"It was a good first go at it. There's a lot to learn from, a lot to build off but I really had a good time."