Rapid Reactions from Carolina's 23-13 victory over Chicago in the preseason opener at Soldier Field.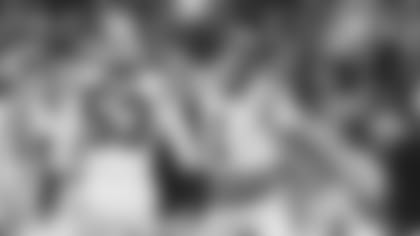 So yeah, Brian Burns knows how to get after the quarterback. Carolina's first-round pick sacked Bears quarterback Chase Daniel twice in the first half, which gave us all an opportunity to see his trademark Spider-Man celebrations.
The 16th overall pick has a lot of room still to grow, but it's obvious he'll make an early impact as a pass rusher, especially if teams allow tight ends to try to block him one-on-one (not a good idea, Chicago). And that means plenty more superhero inspired celebrations to come.
But let's not forget about second-year edge rusher Marquis Haynes, who also recorded a pair of sacks on the night. It'll be a huge boost to this defense if Haynes can provide some pass-rush ability in the rotation.
The Panthers finished the game with five sacks. And for what it's worth, Carolina had just five sacks total in the entire 2018 preseason.
During the Ron Rivera era, the starters have typically been out there for at least a series in the preseason opener. That wasn't the case this year.
We knew Cam Newton and Luke Kuechly weren't going to play, but the entire starting lineup on both sides of the ball joined on the "did not participate" list. Clearly, the Panthers are exercising caution this preseason. The Bears sat most of their starters as well, although quarterback Mitchell Trubisky did hand the ball off a few times.
Here's what the starting offensive line looked like from left to right: Greg Little, Dennis Daley, Tyler Larsen, Taylor Hearn, Brandon Greene.
Here's what the starting secondary looked like: Corn Elder and Lorenzo Doss at corner, Colin Jones and Ross Cockrell at safety.
It should be noted that Rashaan Gaulden and Tre Boston were the second group in at safety. Gaulden was particularly active with a forced fumble and an eye-popping PBU when he got home on a blitz.
Kyle Allen got the start under center and had a solid outing. He finished 7-of-11 for 76 yards after getting three series worth of work.
Rookie Will Grier had a tougher time. At halftime, the third-round pick was 3-of-7 for 21 yards with a bad interception. But he bounced back nicely after the break, connecting with rookie running back Elijah Holyfield, who had lost a fumble earlier, for a 7-yard touchdown.
Grier finished 9-of-18 for 77 yards with the touchdown and interception. He also had one rush for 20 yards. Taylor Heinicke took over late in the third quarter and finished the game.
Godwin makes impact in return game
Wide receiver Terry Godwin has to perform well on special teams to make this team, and he's off to a great start in that regard. The seventh-round pick had a 57-yard punt return where he used a series of nice blocks to get outside. He then made multiple defenders miss for a nifty 22-yard punt return.
Kicker Graham Gano did not make the trip, so that left kicking duties to newcomer Joey Slye. The Virginia Tech product took advantage of the opportunity, converting field goals of 42, 55 and 29 yards.