CHARLOTTE – Throughout organized team activities and now into mandatory minicamp, it's been the same routine for Luke Kuechly.
When the first-team defense takes the field for the start of team drills, the all-everything linebacker assumes his rightful position in the middle of the action – until the action actually begins.
"I honestly don't say a whole lot. I just want to be out there, man," Kuechly said. "It feels like I'm out there without being out there."
Kuechly, still rehabbing from shoulder surgery in February, has taken part in the offseason workout program since it started in April but not in the team periods. Like he did in 2016, when he had the same surgery on the labrum in his left shoulder, Kuechly isn't rushing back and is instead targeting a full return come training camp in about six weeks.
"That's the plan," Kuechly said. "That's how it went last time, and everything went well. I don't anticipate it being any different.
"I'm not able to do the team-related stuff right now, which is a bummer. That's the best part of the OTA and minicamp portion. But it's still good to be out here, still be around talking to the guys. The early-on individual stuff is what I'm able to do right now, and then hopefully once training camp comes I'll be full-go."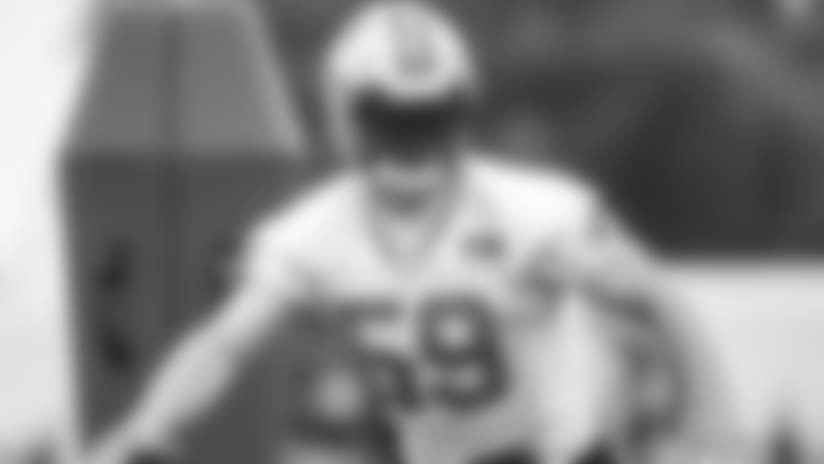 When Kuechly is healthy, his game is a given, but there are some unknowns as the Panthers close in on the conclusion of offseason workouts. Kuechly shared his perspective on a number of topics Tuesday.
On first-year defensive coordinator Eric Washington: "He's got great energy. He has things going the way he wants them to. … He's commanded the room. I don't think there was much of a transition period of guys getting to know him because everybody's that's been here respects him and knows how hard he works and that the guys in the D-line room that he coached the last few years have been excellent."
On first-year linebackers coach Steve Russ: "He's excited to be here, and he's done a great job of teaching. … He's worked his butt off and has learned this defense very quick. He's on his game, and there's open dialogue. He's brought a lot of good stuff from Air Force and has put in some good stuff that he likes."
On third-year cornerback James Bradberry's ability to pace a secondary that was shaky in 2017: "James understands the game, understands where he needs to be. James is a smart player, and I think a lot of that has to do with the coaches too and what they've been able to do. James always had the physical tools – he's long, he's strong, he can run really well – and he just understands stuff. That's important at that position."
On the secondary's mix of faces old and new: "Mike (Adams) is back, James is back, Key (Kevon Seymour) is back, Cap (Captain Munnerlyn) is back. It seems like we have a lot of guys back, and Ross (Cockrell) has come in as a professional who does everything the right way. He's like James in that he's long and strong, he plays real physical and is smart.
"And these young guys have come in and brought the same thing. Donte (Jackson) has a ton of speed and natural gifts, and it's about him continuing to learn. With Rashaan (Gaulden) it's the same way. Those guys have done a good job. Rock (Richard Rodgers) and Jeff (Imamura) are coaching those guys up."
On other defensive newcomers: "Obviously you have the drafted guys, but in a sense you also get (defensive end) Daeshon (Hall) and (cornerback) Corn (Elder) because they were banged up last year. They had a chance to rehab and get stronger, and now they're in Year Two of the program so the learning curve is a little different for them. We didn't get to see them a lot last year, but they were always around soaking stuff in, and they've done a good job."
On new team owner David Tepper: "He came in and talked to us briefly. He just seems very excited. That's the best start. He came in excited talking to us. That meant a lot to the guys. It was a brief visit, but he just seems genuinely excited to have the opportunity to be here in Carolina."