CHARLOTTE — Jermaine Carter has played with Luke Kuechly.
He's learned from Luke Kuechly.
And even though it would be unfair to everyone — especially Carter — to expect him to be the kind of player Kuechly was, he is moving in the right direction.
Very quietly, and very subtly, Carter is bringing some stability to the middle of the Panthers' defense. He may not be the expected source of that stability, but over the offseason, he's gradually become a player other players and coaches have noticed owning the role.
For decades, the Panthers have been able to take a strong leader in the middle of that field for granted, whether it was Sam Mills or Micheal Barrow or Dan Morgan or Jon Beason. But after Kuechly's surprise retirement prior to last season, they were adrift and lacking an identity.
It would be a stretch to say the Panthers are becoming Carter's defense, but the speed with which he's gone from being viewed as an acceptable and competent placeholder to someone they count on is alarming.
Earlier this week, Panthers head coach Matt Rhule was being asked about another guy, Denzel Perryman, a guy who was supposed to come in and perhaps become the next in line at the position. The only problem is, he never did. For a number of reasons, Carter not the least of them, Perryman was traded to the Raiders Wednesday.
"Jermaine's our starting Mike," Rhule said plainly, using the football shorthand for middle linebacker, the guy who makes the calls for the defense. "I think Jermaine Carter is one of the unsung, one of our best defensive players all around. Outstanding player, who also does everything right."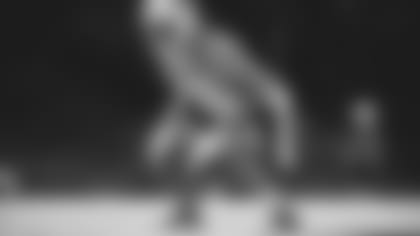 It was casual the way he said it, very matter-of-fact. Of course, this 2018 fifth-round pick from Maryland, a guy with 13 fill-in starts in three seasons. Of course, a guy a new coaching staff wasn't quite sure what to do with. Of course, Carter was becoming the personality of a defense.
When you ask some of the stars of the Panthers defense about Carter, the tone changes — it's one of immediate respect, the kind which is earned rather than bestowed.
"He's a tough, tough, tough guy," defensive end Brian Burns said, adding emphasis to each of the three toughs. "He works hard, and he's one of our hardest hitters. I'm seeing a lot.
"He's stepping into that role as the dominant Mike linebacker. He's taking control of the defense, that quarterback of the defense. I can see that."
Now they can, but going into the offseason, there wasn't necessarily any reason to say that.
Carter had shown a level of ability, giving the appearance of a guy you could trust to be your third or fourth linebacker, a spot starter, a guy solidly on the roster but always on the fringes of the starting lineup.
Suddenly, however, people started seeing a different guy. During last week's game against the Ravens, Panthers TV Network analyst Steve Smith Sr. saw it too, and said the name that people hesitate to say because of what it means.
Carter would never volunteer for that kind of treatment, though he does have a quiet confidence about him. All offseason, when people were trying to give his job away to Perryman or someone who wasn't even here yet, he simply proceeded as if the job was his own, until it was. So having a former player such as Smith drop that kind of praise, it was something he appreciated, but also kind of expected for himself.
"I was told of the comments," Carter said. "It just comes with a lot of expectations. A lot of expectations I've had my last three years here. I've been flying under the radar here, just one of the guys coming in and working hard every day. To hear him say that meant a lot, but at the same time, I'm still humble.
"I watched a lot of football growing up, knew exactly who Steve Smith was, and he was a legend here in Carolina. I'm appreciative of those words, but I'm humble at the same time. I definitely embrace it. I look at it as a challenge, and I like to look at myself as someone who never backs down from a challenge. So I'm just looking forward to showing everyone what I'm capable of."
Getting to that point took more than saying he was going to. Carter had to change — his game and his body. Being drafted onto a team with Kuechly, Thomas Davis, and Shaq Thompson, he quickly learned that to earn a job, he had to know all of them. So he worked to master all three linebacker spots, in case he needed to fill in for a star.
He was also smallish, and came to camp last year around 217 or 218 pounds. As Rhule and his new staff got to know Carter, one of the first things they told him was that he needed to be bigger. As Carter does, he complied eagerly, and showed up at 230 pounds, better able to withstand the pounding of a season.
"There's a lot of shots you give and take on your body out there, so you need to have some size," linebackers coach Mike Siravo said.
But the fact that Carter added weight because they asked him to was not a surprise to Siravo. When he turned on tape when he got the job a year ago, Siravo said he saw a fast, aware player, who played with high energy.
As he got to know Carter, and Carter got to know him, it became obvious to Siravo that he had something to work with.
"I'm not surprised at all to see him take ownership and assert himself more authoritatively in the defense," Siravo said. "There wasn't a switch. I told him last year, early, you're a starter in this league; you just have to work through this and believe it. I believe it. I knew he's a good player, just a matter of time and reps together. It's not him, it's us, it's the whole thing. When he went out there and started getting reps, you see the high-energy, the intelligent, the physical, and productive player. As they get more comfortable in the spotlight, they just get better and better.
"He's a high-level preparation guy. It's only going to get better for him, and that's because of him."
Siravo said it's not unusual to come in from practice, and to see Carter with his head buried in his tablet computer, watching his own work from moments before.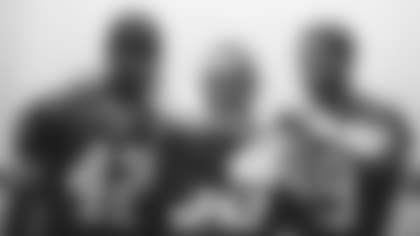 "He's a problem-solver," Siravo said. "And if he has a problem he wants a solution, if he can't figure it out himself, which is rare. He loves feedback. He'll come right off the field and be on his iPad to watch the tape, because he wants to know exactly what his day looked like out there, and as soon as he can get his mind around it. He's just great at preparation."
Not everyone who walks through an NFL locker room is like that.
"Nope," Siravo said simply.
But Carter has shown to be more than a try-hard guy, or an overachiever who gets stuck in a spot because they don't have anyone better to put there.
The way coaches and teammates offhandedly talk about Carter being a difference-maker here speaks to how far he's come. They're not surprised by him taking a leadership role in his own way, because they've watched him earn it.
"I definitely think I've earned the job," Carter said. "It's still camp, but I'm still working to be the best player I can be. I'm coming out here every day to be like I'm still a two, like I've still got that chip on my shoulder, and that's how I carry myself."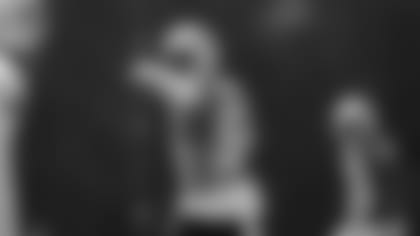 It might not have always been that way. He admitted that in 2018, he wasn't as prepared as he should have been when he had to fill in for Thompson late in the year.
"I didn't want that to be the case this time," he said. "I took advantage of that, and I think I handled that pretty well."
Since that time, he immersed himself in game tape, and he absorbed what he could from one of the best of his generation at the position. He'd eagerly learn everything he could from Kuechly, as one does if he wants to be great. Knowing he needed to get better in pass coverage, he'd watch Kuechly's Thanksgiving game against the Cowboys (when Kuechly had two straight picks of Tony Romo, the guy who sees things before they happen now that he's on TV).
"It was definitely beneficial to have him around and pick his brain," Carter said of Kuechly, who dropped by practice this week and shared some pointers with his protege, as he did last year when he was working as a pro scout. "Sometimes during the year, he'd have film sessions with us. He makes the game more simple."
Of course, absorbing all those lessons wasn't simple. Or easy. But Carter went step-by-step to fix the things he did wrong, to make himself stronger, to learn a new staff, and suddenly, he's right where he's always wanted to be.
In the middle of it all. And looking like he belongs there.