CHARLOTTE – Head coach Ron Rivera has a preferred script for the third preseason game each season, wanting starters on both sides of the ball to stay in the game through the first series of the third quarter.
That's the plan for Friday's "dress rehearsal" against the Patriots, and Carolina could well be able to stick to the script for the first time in a few years.
"The plan right now going in is to have those guys play into the third quarter, get the first series coming out on both sides on the ball so we get the feel of making adjustments at halftime and implementing them on the field," Rivera said. "But we'll be smart with what happens out there."
Unlike last season, quarterback Cam Newton is ready and able to play into the third quarter, but it's not entirely up to him. Friday is a big night for a makeshift offensive line. If the unit holds up, it will be good news in the short term for the goal of Newton playing into the second half and even better news for the team's long-term prospects.
"We'll see how we do Friday night. That will be a big indicator as to where we are, where our depth is, where our young players are," Rivera said. "We've talked about how we can protect, the things we can do to help, and we'll see what happens."
The last time the third preseason game actually featured Newton through the first series of the second half was 2015, also against the Patriots. Newton started in last year's third preseason game but played just one series – his only series of the entire preseason coming off shoulder surgery – leading the offense to a touchdown aainst the Jaguars.
The third preseason game in 2016 was against the Patriots and Newton was scheduled to play into the second half, but he struggled and Rivera turned to Derek Anderson for one first-half series before putting Newton back in and leaving him in until the fourth quarter.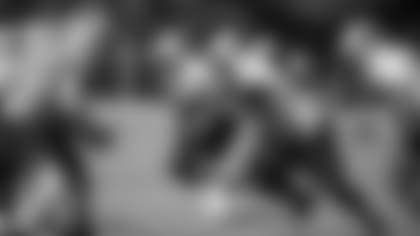 Dealing with Davis: As preseason preparations go, Friday's game will most mimic the regular season opener against the Cowboys. Rivera didn't say whether that meant linebacker Thomas Davis wouldn't start the game, but the Panthers are starting to prepare for life without him.
"He's gone from full-time reps with the ones to part-time to even less part-time," Rivera said of Davis, who has been suspended for the first four games of the regular season. "That's hard because Thomas is really integral in what we do, but we're also being realistic that Shaq (Thompson) has got to get ready to go, David Mayo has got to get ready to go. We've got some young guys to get ready to go, so we've started doing that already."
Davis has continued to make an impact at practice – another thing he won't be able to do during the suspension. Rivera said he has no doubt that Davis will be champing at the bit upon his return.
"He'll be in good shape and angry," Rivera said. "He'll be ready to go."
Rookies brace for Brady: While Davis has plenty of experience playing against the Patriots and Tom Brady, it will obviously be a first for rookies like cornerback Donte Jackson.
"It's going to be a life-changing moment," Jackson said. "It's going to be fun just to get out there and compete. He's obviously one of the best to ever play the game. I've been watching him since I was a kid. It will be cool to get out there and play against him."
The speedy Jackson, expected to make his second straight start against Brady and Co., said the game has started to slow down for him as the learning curve straightens out – a sentiment that will be put to the test against the Patriots.
Fellow rookie defensive back Rashaan Gaulden also is set to start with Da'Norris Searcy still in the concussion protocol. Brady obviously isn't an easy target, but he presents an opportunity for the secondary to set a takeaway-centric tone one season after the Panthers picked off just 10 passes.
"That should be the goal from any secondary in any league," Jackson said. "If you're a defensive back, you want to get used to catching the ball as much as you can. It's something that Coach has preached to us."