ATLANTA – This is not how the Panthers offense wanted to enter the postseason.
After producing just one touchdown drive – albeit the game-winner – in Week 16's playoff-clinching win over Tampa Bay, the Carolina offense was totally out of whack in a 22-10 loss at Atlanta to close the regular season.
"For anyone who watched, it was pretty self-explanatory. Obviously we played really bad on offense," tight end Greg Olsen said. "You've got to find ways to score points, you have to find ways to move the ball, you have to find ways to be more efficient - run and pass. We've kind of lost our stride the past couple of weeks."
Quarterback Cam Newton started the game 0-for-9, the longest stretch without a completion to begin a game in franchise history.
"We just have to understand in a game like this and the games moving forward, guys aren't going to be scot-free," Newton said. "As a whole, from throwing the ball to catching the ball, we have to make contested catches and maximize on the opportunities we get.
"Accuracy is something that needs to be in place as well. I just can't overlook myself. There were some errant throws."
But as rough a start as that was, the game was still well within reach.
After gathering the offense on the sideline for a passionate pep-talk, Newton connected on his next seven passes, the last of which went to wide receiver Devin Funchess for a 4-yard touchdown to tie the game 7-7 heading into the half.
"I would have loved to see us come out in the third quarter and make something happen," head coach Ron Rivera said. "Unfortunately, we didn't."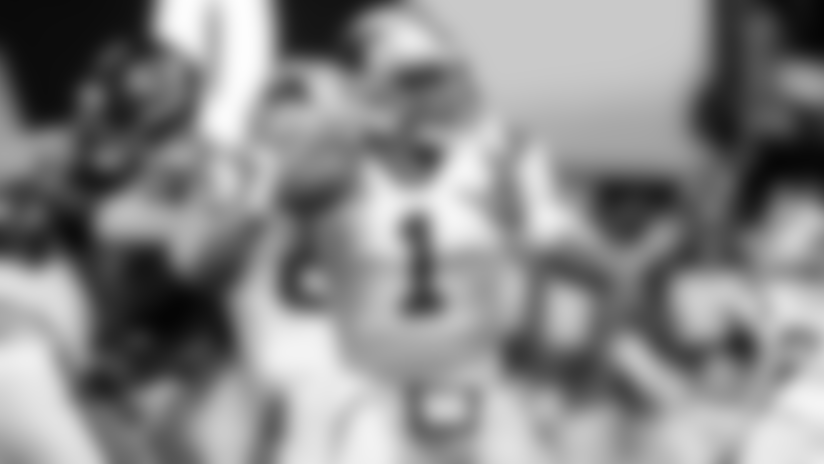 Carolina went three-and-out on the opening possession of the second half. The Falcons then took the lead with a 30-yard field goal. They added to that lead with another field goal after Newton and wide receiver Brenton Bersin weren't on the same page and safety Ricardo Allen had an easy interception. It was the first of what would be three interceptions against Newton, who finished 14-of-34 for 180 yards.
"We just couldn't get it clicking," Funchess said. "If you don't get it clicking, that momentum goes to the other team. And when you try to get some (momentum) back, you try to do too much."
Added Newton: "We can't panic. Sometimes you need to step back and analyze the situation and even breathe in the mayhem of what's going on."
The Panthers can't afford to panic as they enter the postseason with a matchup looming against the Saints.  
"We need to turn the page extremely fast," Newton said.
The quarterback, head coach and others all expressed confidence in the group's ability to bounce back.
But issues on the offensive side of the ball must be addressed if Carolina is to advance past wild card weekend.
"I think our confidence is fine. We've got to fix it, though," Olsen said. "We just can't think all of a sudden we're going to show up and things are just going to magically get better. That's not how the NFL works. We've got to fix it, we've got to address it and improve. And we've got a week to do it."