NEW ORLEANS – All for naught.
The Panthers overcame a 14-point first half deficit. Then they overcame a 13-point second half deficit. And with 3:46 remaining in a 31-31 game against the division-leading Saints, they had six cracks at the end zone from inside the New Orleans 12-yard line.
It was where the Panthers were readying to take their first lead. Instead, it was the most glaring of "missed opportunities" in the Superdome.
Carolina was forced to settle for a 28-yard field goal try at the two-minute mark, and kicker Joey Slye missed it wide right.
That put the ball in Drew Brees' Hall of Fame hands, and he engineered a game-winning drive that culminated with a 33-yard field goal from Will Lutz to hand New Orleans a 34-31 victory as time expired.
"That's a tough one. I can't say I've been a part of many that have ended like that," veteran tight end Greg Olsen said. "When you have the ball on the (3-yard line) with two minutes to go in the game, you've got to win. That's just the way it goes. Just didn't handle the end of the game very well."
A review of Carolina's final offensive sequence can begin with third-and-3 from the 5-yard line.
Wide receiver Jarius Wright was breaking open on the left side when quarterback Kyle Allen released the ball, and safety C.J. Gardner-Johnson tugged at Wright to prevent him from reaching the ball. Head coach Ron Rivera challenged what was initially ruled an incomplete pass, and the officials overturned the call on the field by penalizing Gardner-Johnson for pass interference.
The crowd in the Superdome was furious, as the Panthers were awarded a fresh set of downs from the 3-yard line. But Wright is convinced he scores if not for the impediment.
"It was definitely a smart penalty in that situation," Wright said. "I was either going to score the touchdown or it was going to be PI. It ended up really helping them."
On first-and-goal, running back Christian McCaffrey was stuffed for a one-yard loss. On second-and-goal, Allen was forced to throw the ball away. On third-and-goal, Saints defensive end Marcus Davenport dropped Allen for a sack.
"We have to capitalize," guard Trai Turner said. "We have to be able to punch that in."
Instead, it was left to Slye, who had already missed two PATs, to try to give Carolina a three-point lead.
That didn't go as planned.
After Slye's miss, it was on Carolina's defense to try to extend the game into overtime with a stop at all costs.
The crucial moment was third-and-6 from the New Orleans 36 when Brees targeted go-to guy Michael Thomas, the NFL's leading receiver, who was lined up against cornerback James Bradberry.
Thomas drove inside and then cut outside to create separation. Brees delivered the ball for a 24-yard gain to the Carolina 40 with 26 seconds left.
"It was a double move," Bradberry said. "I thought it was a double slant, that's why I drove so hard. I slipped a little bit when I was trying to speed turn. The play before that they ran double slants but they dumped it down to Alvin Kamara. I was looking for it again on third-and-6 (for them) to try to get the first down…
"I wish I could have that last play back."
After a 16-yard catch and a 9-yard run by Kamara, Brees spiked the ball to set up the game-winner.
And just like that, the makings of a huge road win transformed into an utterly devastating loss.
"Everybody worked their ass off. Sometimes it doesn't go your way. It's not a good feeling," Turner said. "They're all tough, but this is a little different.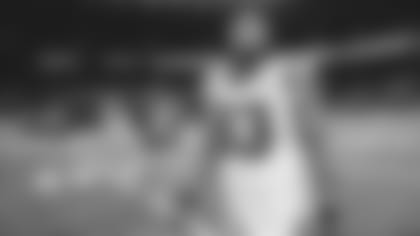 Now, after three straight losses, the Panthers, who clawed their way out of an 0-2 hole, are 5-6 with the Saints (9-2) in a commanding position in the NFC South.
"Talking is over with. We did enough talking. It's time to start doing, man," defensive lineman Gerald McCoy said. "We're too good for this. And it's frustrating. The Saints are a great team. But we're a good team, too.
"We had an opportunity to win, and we didn't."
View photos from Week 12 as Carolina visits New Orleans.