CHARLOTTE – With the unrelenting sun perched high in the sky, a group from the Marine Corps stationed in Camp Lejeune trudged through the field, their task clear.
The day's docket featured a joint exercise with a group of Army soldiers from Fort Bragg, with the two battalions serving on different sides of the line.
"We really wanted to run the score up on them," Army Staff Sgt. Patrick Spence said, "but we weren't intending to throw four interceptions."
A dozen troops from both the Army and the Marines waged a fierce flag football war on the Bank of America Stadium practice fields Monday afternoon. With about 10 Panthers coaches and 10 players watching – among them head coach Ron Rivera and linebacker Luke Kuechly – the Marines prevailed 26-13 to cap the inaugural Military Football Fantasy Camp sponsored by the Carolina Panthers and the USO of North Carolina.
"To have the opportunity to come out here and play on an NFL field – we watch these guys every Monday, Sunday, Thursday – is so humbling," said Thomas Grant, a 41-year-old gunnery sergeant affectionately known as "Gunny" by his fellow Marines. "Those guys are really involved in their community, and to have us here from Camp Lejeune and come out on their own time and cheer for us, that's outstanding."
"Gunny" said the main thing that made the day easier than their typical one was the lack of a 60-pound pack on their backs. Still, the hottest day of the year and some intense pre-game training put the troops through their paces.
Rivera set the stage for the visitors before dispatching them to offensive and defensive meetings and then an on-field practice to put their new knowledge to work.
"We understand and appreciate the commitment you have made to join the military and protect this country that we all live in. I want to thank you guys," Rivera told the troops. "We do have a great connection here with the military, and it doesn't matter what service it is – though I did grow up an Army brat. My dad did 32 years and was a chief warrant officer when he retired, so I've got a great appreciation for who you guys are. Thank you for your service and commitment."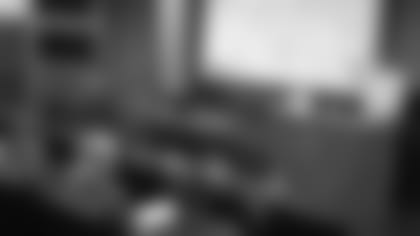 Assistant head coach Steve Wilks and assistant defensive backs coach Richard Rodgers got each unit prepped for defense, while quarterbacks coach Ken Dorsey and assistant wide receivers coach Cameron Turner shared offensive concepts.
"It's a neat experience for our coaches to work with these young men who have made such a commitment to our country," Rivera said. "These young men and women and their families make such a sacrifice, and the least we can do is give them an opportunity to do something that's a little bit different but at the same time is a little more normal than what they usually do."
Coleman Strickland, a Marine first lieutenant, admitted that putting what they learned into practice was daunting even though his team had been preparing back at Camp Lejeune for the last few weeks. Still, his unit welcomed the challenge.
"It was awesome," Strickland said. "It was cool to walk through the life of a player for a day. It was an amazing experience."
Come game time, Strickland tossed a pair of first-half touchdowns to help the Marines build a 17-0 lead. The Army pulled within 20-10 midway through the second half and was driving when an interception all but sealed it.
"Gunny" accepted the trophy for the jubilant Marines and shared heartfelt words about sportsmanship and competitive spirit with all the servicemen who participated.
Rivera's parting words summed up the entire experience.
"At the end of the day," he said, "we are all on the same team."