LONDON – So, Efe Obada – how was the flight in?
"It was shorter than I expected," the Panthers defensive end and London's local hero said Thursday. "You cut some hours down when you fly private, I guess."
Well, the Panthers' chartered plane from Charlotte to London wasn't faster, it just got a little boost from the friendly skies.
"We had a huge tailwind, from what I understand," head coach Ron Rivera said. "We got back to the hotel earlier and the guys were able to get a little break."
But first, Obada was greeted with a nice welcome when the team made its way through the airport.
"When we were walking through the airport, several people recognized him and called out his name," Rivera said with a smile. "Efe is kind of a shy guy by nature. Just seeing his reaction – he just kind of smiled and you could tell he was blushing."
Obada was still blushing a bit when a London-based reporter asked if he could put his emotions into words now that's he's preparing to play in an NFL game in London.
"I can't," Obada said after a long pause. "I'm a bit overwhelmed. It means the world."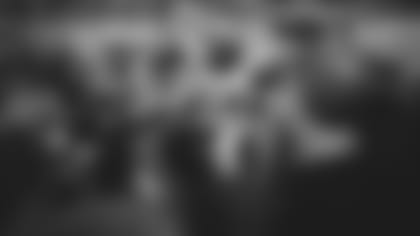 After arriving at the team hotel in Wembley, the Panthers got settled before hopping on buses to Harrow School, which is serving as Carolina's practice facility for the next few days.
Rivera put the team through a walkthrough in refreshingly cool 60-degree weather before the players took part in an NFL Play 60 event with local schoolchildren. The kids rotated through a series of drill stations that were manned by Panthers.
"It's a great field. The facilities are terrific," Rivera said. "You think you're in a Harry Potter movie."
Yup, the kids at Harrow School get that a lot.
"It looks like they do spells in there or something," cornerback Donte Jackson joked.
Nah, no spells (as far as we know). But the kids were very impressive despite their lack of experience with American football.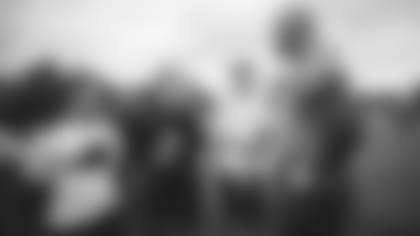 "This is super cool. I'm fascinated by the whole setup here," tight end Greg Olsen said as he was surrounded by students. "I feel like I'm going to ship my kids away to go to school here. You guys are carrying on better conversations than kids in America do.
"I wish I had a British accent," Olsen added. "Everybody just sounds smarter."
Olsen and his teammates were having a grand old time with the kids. This is a special trip. Many of these guys have never been abroad. And sports always have a way of bringing different people together.
"It's been interesting. We woke up on a plane in a different country on a different day. We're enjoying it," Olsen said. "It's good to share our game with them, share what it teaches. For kids growing up here, this is kind of different and unique, which is fun."
After the Play 60 event concluded, the Panthers bussed back for some meetings. To best adjust to the time zone, Rivera is hoping his players can fight off the fatigue for as long as possible before going to bed.
Then it's back to Harrow School tomorrow morning for a true practice.
The Panthers held a Play 60 event for students at the Harrow School on the team's first day in London.