CHARLOTTE — The Panthers were looking for something different in the secondary this offseason.
And the difference was noticeable, immediately so.
Even though players are still in shorts and shells on the first day of rookie minicamp, cornerback Jaycee Horn cuts a different figure than any corner they've had around here in years.
His mix of speed and size (he's listed at 6-1, 200 pounds) is rare, which is why you have to spend top-10 picks on guys like him.
He's more solid in the upper body than a Chris Gamble. He's longer than a Ken Lucas or an Eric Davis. He's more defined than a Josh Norman.
Of course, Horn still has to play, but the first impression the first-round pick made was striking.
Head coach Matt Rhule talked about Horn's physical style during the draft, and said Friday the addition of Horn and 6-foot-3 fifth-round cornerback Keith Taylor Jr. could add an element to the defense they were missing.
"Obviously, that length helps you play the deep ball," Rhule said. "(Horn has) 33-inch arms, he can win at the line of scrimmage. He can win on the 50-50 ball, he can reach in and break up passes. And he's a physical player at that size, so he can support the run. You think of cornerbacks in the NFL as being cover guys, but most offenses are designed to block everyone else and make the corner make the tackle.
"He's going to bring a sense of physicality. When you look across the field at Taylor, he's the same thing. We have two big, long, fast, athletic guys that we have to train in our system and see where they get to."
Again, there's a long road ahead of all the rookies, but on the first day of practice, Horn looked the part.
While the Panthers were on the practice field Friday afternoon, the league sent out a memo that said any vaccinated players and coaches and team personnel who were fully vaccinated against COVID-19 no longer had to wear masks inside or outside the facility.
That word spread quickly, and you could see masked coaches bare their faces around players for the first time in over a year.
Rhule said he had reminded coaches during a morning meeting about the importance of wearing the masks, but was relieved when general manager Scott Fitterer gave him the news during practice.
"I want you to be able to see my face, I want to see your face, I want to interact," Rhule said. "Our staff, every one of our coaches except for maybe one young guy who is going through the process, we're all vaccinated. And we did it for family reasons, but also because we want to make sure to keep our players safe. For us to now be able to coach with our masks off, be in the building with our masks off, for us to follow the science of the CDC, that makes me feel great."
Any unvaccinated personnel still have to wear masks inside or outside, and Rhule said he respected any personal decisions players made about getting vaccinated or not.
Rookie minicamp can be a bit of a blur for all the new players. It's even more challenging for the quarterbacks who are also trying to audition for an actual job.
Since they didn't draft or sign one, the Panthers brought in a pair of passers for tryouts this weekend — since you need a couple of quarterbacks to make a practice work.
Northwestern's Peyton Ramsey and Washington's Kevin Thomson have to come in cold, learn enough of the playbook to be functional, and hopefully impress the coaches enough to earn a chance to hang around.
"You don't have any time to mess around," Ramsey said. "You get an opportunity over the weekend, they gave me a playbook with some base install, and I did my best to learn it as fast I could and come back to the meeting the next day and shoot it back to them. Not a ton of time to do so, but I'm doing my best to impress anybody and trying to do the little things right."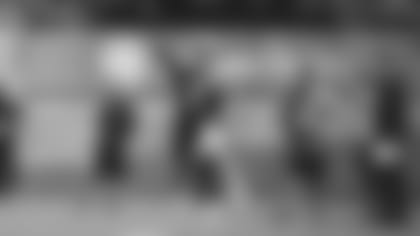 If anything, Thomson has experience learning on the fly. He played in five different systems in six years of college at three schools (UNLV and Sacramento State). He also lost a couple of years because of an elbow injury that required Tommy John surgery, so he's used to adapting.
"I think it's prepared me pretty well," Thomson said. "I've learned a lot at every stop along the way. Every coaching staff ran a different offense. Sometimes no-huddle, then huddle, and back to no-huddle, and back to huddle. So I kind of feel like I've experienced it all, and been forced to learn playbooks really quickly and pick things up fast. I think that's going to be a benefit to me at this level."
Another one of the players here for minicamp is definitely not a rookie.
In fact, he's got a reasonably solid resume for a guy looking for work.
Former Seahawks safety Delano Hill is here on a tryout basis.
He was a third-round pick out of Michigan in 2017, and played in 42 games, with six starts. He only played in two games last year before a back injury sent him to injured reserve.
There are no promises for any of the tryout players, but considering the state of the safety position at the moment, he has a chance to impress.
There isn't a true free safety on the roster, and depending on how they want to deploy Jeremy Chinn this year, they still lack experience in the middle of the secondary.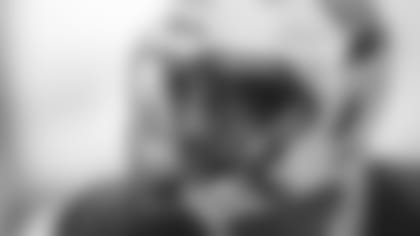 — Wide receiver Terrace Marshall Jr. was in and out of team drills, doing some work on the side as well.
Rhule said it was largely an issue of maintenance, as Marshall's coming back from an arthroscopic procedure on his knee in January. He also broke his foot in 2019, so being careful with him is part of the plan.
— The Panthers take positional flexibility seriously.
Defensive tackle Mike Panasiuk, who spent last year on the practice squad, worked with the offensive line Friday. They used him at guard Friday, giving them six offensive linemen to work through drills.
— Minicamp is about teaching new guys everything, and that includes how to warm up. They spent a good 15 minutes at the start of practice explaining the pre-practice routine to the new guys, clearly a longer stretch of time than normal (I'll see myself out).
View photos from Carolina's first minicamp practice with the rookies on Friday.