CHARLOTTE -- Future Hall of Fame defensive end Julius Peppers is the Panthers' nominee for the 2018 Walter Payton NFL Man of the Year award, which recognizes excellence on and off the field.
"It's a great honor," Peppers said. "It's humbling."
Each team nominates one player who has had a significant positive impact on his community. Tight end Greg Olsen was a finalist each of the past two years. Linebacker Thomas Davis won the award in 2014.
All 2018 nominees will wear a Man of the Year helmet decal beginning Week 14 and continuing through the end of the season in recognition of their accomplishments.
Five hundred thousand dollars will be donated in the name of the 2018 winner. $250,000 will be donated in his name to expand Character Playbook, the NFL and United Way's digital character education program. An additional donation of $250,000 will be donated to the charity of his choice. All other 31 nominees will receive a donation of $50,000 in their name to expand Character Playbook, and an additional donation of up to $50,000 to their charity of choice. All donations are courtesy of the NFL Foundation, Nationwide and United Way Worldwide.
Peppers, someone who always prefers to contribute behind-the-scenes, decided this year to be seen and make his voice his heard to help his community.
After seeing the photos and videos of the damage created by Hurricane Florence along the coast, Peppers, who grew up in eastern North Carolina and played football (and basketball) at UNC, had something to say and wanted to help.
He partnered with the Foundation for the Carolinas and started the Julius Peppers Hurricane Florence relief fund by donating $100,000 and encouraging his teammates and other NFL players to do their part, as well.
"I think it would be a great statement if we had 100 percent participation," Peppers said of fellow Panthers supporting the cause. "To be honest, I think that would say a lot to these fans and the community. We rely on their support every week to come to the games and buy our jerseys. It's only right for us to give the same support back to the them and help them in their time of need."
Funds are being directed to nonprofit recipients of grants from Foundation For The Carolinas' Hurricane Florence Response Fund, which is providing relief to victims of the storm.
"When these disasters happen you don't have the basic necessities. Sometimes we take those things for granted," Peppers said. "That's what's on my mind. I'm just trying to do something to help."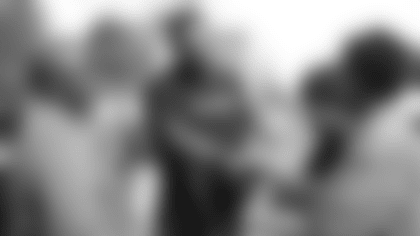 However, his donation was only the beginning of his commitment. Since his donation, he's spent two of his off-days visiting hurricane-ravaged areas - Robeson County in North Carolina and Marlboro County in South Carolina, both impoverished areas that reminded him of his hometown where people were too busy picking up the pieces of their lives to gawk at an NFL star.
Peppers understood. And he wasn't too busy to listen, to help, to take the time in the midst of the football season to travel five hours round-trip to see how he could assist in some small way those struggling in the wake of a natural disaster.
"It's one thing to write a check. That's great," Peppers said. "But it's another thing to come out, be on the ground and actually see the devastation, see the effects with your own eyes."
Peppers' involvement in the community goes beyond his efforts this year. He has donated more than $300,000 to the University of North Carolina's Light on the Hill Society Scholarship fund that supports African-American students. Peppers gave $100,000 to the fund in 2009 and $250,000 to the fund in 2012. The scholarship program is a tribute to Carolina's earliest African-American graduates and a vehicle for alumni and friends of the university to support African-American freshman who exhibit academic excellence and the potential to contribute while at UNC and after graduation. The Light on the Hill Society Julius Peppers Scholar receives an annual $1,000 award, renewable for up to three years.
Peppers has made donations to various churches in Charlotte, Nash County (NC), Houston and Dallas for projects, including youth development, transportation, radio devotionals and building repair. From 2005-08, he funded the Julius Peppers Project, youth development programs in Charlotte, Nash County and Chapel Hill that secured motivational speakers to discuss social and educational issues with area youth.
While playing for the Bears, he made financial contributions and organized youth development through Big Brothers/Big Sisters of Chicago.
On the field, Peppers has been one of the most prolific defensive ends to ever play the game. A nine-time Pro Bowler, Peppers has played in 172 consecutive games, the second-longest active streak in the NFL among position players. Peppers is the oldest active defensive player in the NFL and his 262 career games played rank sixth among all defenders in NFL history.
Peppers currently ranks fourth in NFL history with 158.5 career sacks. He has the most sacks of any active NFL player, and is the only player in history with at least 150 sacks and 10 interceptions. He has recorded 51 career forced fumbles, one behind Robert Mathis for the most forced fumbles since the statistic became official in 2000. Peppers has six career defensive touchdowns, tied for third-most among all NFL defensive linemen and linebackers.