CHARLOTTE – Seven-year-old Parker Cowherd and his family had just been through a lot. It was November 2015 and he had been diagnosed with a rare form of brain and spinal cancer. Soon after, he underwent surgery and began chemotherapy.
Then the Make-A-Wish Foundation got involved.
"Make-A-Wish reached out to us and asked what his wish would be," said his mother, Allison. "We knew from the start it was going to be something with the Panthers."
Head coach Ron Rivera and his players have granted several wishes over the years. Now it was Parker's turn.
On Tuesday, Parker's wish to play football with the Panthers became reality.
First, he was introduced to the players and coaches at the morning team meeting.
"Seeing him walk into the team meeting – all the players cheering and clapping for him – he was pretty star struck during that moment, but it was really great to see the guys so into this as well," Allison said.
Then Parker went up to the football offices to sign his contract (and receive his candy compensation). Next up was a trip to the equipment room to get his practice gear.
Greg Olsen took over from there. The Pro Bowl tight end showed Parker around the locker room, and Parker helped him get ready for Tuesday's OTA session.
"These are special kids. They have such an unbelievable outlook on life," Olsen said. "It puts a lot of things in perspective. I was really fortunate to spend the day with Parker."
They walked onto the practice field side by side, and Parker, sporting his own 88 jersey over comically large shoulder pads, wore a beanie to match Olsen's trademark warmup attire.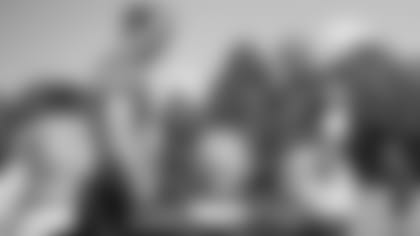 Olsen then delivered a message from Parker to quarterback Cam Newton: "He said you have to feed the tight ends today." Newton laughed and nodded in agreement.
During practice, Parker shadowed the tight ends and even offered Olsen some advice.
"Every time I turned around, there he was standing right with our group," Olsen said. "He told me one time to get my pads down. I'm not sure if that came from (tight ends coach) Pete (Hoener), or he was just judging me. We're going to have to talk about that."
Parker was given the honor of breaking the team down at the end of practice. He and his family then walked off the field, along the path that takes you past the bold "Keep Pounding" signage.
It's the Panthers' motto. It's the Cowherds', too.
"It's just what we say around our house now," Allison said. "We say, 'Keep faith, keep hope, keep together, keep pounding.'"
View photos of Make-A-Wish grantee Parker Cowherd as he goes through a Panthers practice with tight end Greg Olsen.