CHARLOTTE – With Cam Newton given another preseason game off, the door was open for Kyle Allen or Will Grier to make a statement in the Panthers' backup quarterback competition. Instead, they each struggled to make much of anything happen against the Bills.
Combined, Allen and Grier went 14-of-30 for 107 yards with an interception and an average passer rating of 42.7 while producing six points in nine drives.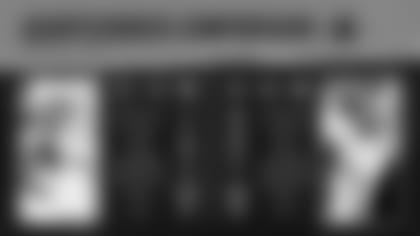 When asked what he would have liked to have seen the two do better, head coach Ron Rivera replied: "Not throw the ball high."
Which certainly happened too often.
But Allen was actually short on his first opportunity to make a play, bouncing a ball to a wide-open Curtis Samuel on Carolina's opening drive.
"I was a little disappointed in today," Allen admitted. "I think from an execution standpoint, we could've done a lot better and that always starts with me."
Allen and the Panthers did move the ball on their second drive, and he nearly hit on a big play near the end zone, but a nicely placed pass to Torrey Smith was broken up by cornerback Levi Wallace. Two plays later, Allen was sacked on fourth-and-2 from the Buffalo 18-yard line.
On his third drive, Allen had DJ Moore open on a dig route, but the pass sailed high. And that was it for Allen. Three series, 19 plays. It wasn't much time to allow a quarterback to get into a rhythm, but …
"That's where guys like me make the team and that's why I have to take advantage of those series," Allen said.
"You're preparing as the starter, but then you get taken out after three series, so you really want to take advantage of your time in the game cause that's your time to show everyone what you can do. So it's tough when it doesn't go well at first, and you get taken out, but that's the NFL."
Once Allen exited, Grier had a chance to make a case for a move up the depth chart. That didn't happen.
After dumping down to running back Jordan Scarlett for a 14-yard gain on his first throw, Grier's second was returned 70 yards for a touchdown by cornerback Kevin Johnson.
"He made a bad read on the throw and threw it outside when he should have thrown it inside and unfortunately it got intercepted," Rivera said.
Grier, who wasn't available for questions when most of the media entered the locker room, did bounce back to lead the Panthers to a pair of field goals on his next two drives. But his three series in the third quarter all ended with punts.
The fourth quarter went to Taylor Heinicke, who saw limited snaps in training camp and who's appeared to be the odd man out at quarterback. But he directed the Panthers' lone touchdown drive of the night -– an 11-play, 75-yard series that ended with a 9-yard toss to Rashaad Ross.
Still, the Panthers aren't going to keep four quarterbacks, and they'll be plenty patient with their third-round draft pick. Halfway through the preseason, that's about as much clarity as there is with the backups.
"The hard part about it was the decisions that it looked like (Allen and Grier) made were good decisions. They just didn't deliver good balls," Rivera said.
"We've still got two weeks left to go to make a decision on certain things and we'll see what happens."
View all of the best shots from arrivals to the locker room to game action and postgame in the best of the Panthers vs. Bills.