CHARLOTTE – When a team loses a game like the Panthers did Friday night against the Bills, there are two general responses from fans and observers.
Overreacting or dismissing it entirely because it's the preseason and quarterback Cam Newton, running back Christian McCaffrey, tight end Greg Olsen and linebacker Luke Kuechly didn't play.
The right response is probably somewhere in the middle.
The Panthers have lessons to learn from their 27-14 defeat to Buffalo. They were outplayed. But vanilla play-calling and the restrained nature of preseason football can't be ignored.
"Part of it being preseason is finding out where we look great and where we look terrible," defensive tackle Gerald McCoy said. "I've been a part of preseasons where we look like we're unstoppable. Then we get to the regular season and we're like, 'What happened?'
"It's preseason. You get a good gauge of where you're at. Really, it's a glorified practice. You want to come out and play well but you don't panic. It's early. It doesn't count until the Rams come here."
Most of the attention will be on the offense – specifically the quarterbacks – after Friday's game. Newton didn't play for the second straight week and Kyle Allen and Will Grier, who are battling for the backup job, both struggled. Combined, Allen and Grier completed just 13 of 30 passes.
"But that doesn't tell the whole story," wide receiver Torrey Smith said.
And Smith is right. The offense has blame to pass around.
"You evaluate the technique and the execution, and obviously today wasn't the best in terms of production," Smith said. "Coaches always say, 'Keep the easy stuff easy,' and we didn't."
The defensive players had similar things to say after the game.
Buffalo's first-team offense scored 10 points on their first two possessions, which didn't sit well with defensive tackle Kawann Short.
"I'd give us an F," Short said. "I feel like we came out dead and that's something we can't do. Missed tackles, missed alignments, being in the wrong spot.
"We didn't come out and set the tone."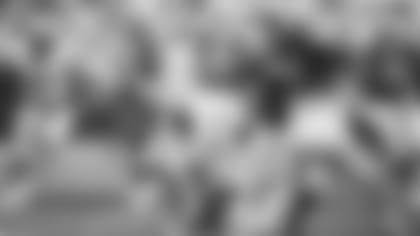 And that's a sticking point for Short, especially at home.
"Didn't like how we started," he said. "This is the first time people saw the starters in 2019 and we didn't put a good product out there on film. From the youngest to the oldest, we just need to do better. Just do better."
Added cornerback James Bradberry: "I'm with KK. We have to get off the field."
The starters on both sides of the ball were out there for three series. Then they turned it over to the second- and third-teamers, who struggled to make an imprint on the game.
That's where most of head coach Ron Rivera's frustration seemed to stem from.
"These first two games were really about the young guys getting chances," Rivera said. "Quite frankly, from my perspective, I didn't think some of the young guys stepped up when they had chances."
There are two preseason games left. The next one is the "dress rehearsal" at New England, home of the defending champs.
Time to flush this performance and prepare for the next challenge. Preseason or not, that's how it has to be.
"You've got to reset," McCoy said. "If you play well, then reset and go practice well. And if you don't play well, then reset and come practice well. That's really what coach is looking for right now.
"Because that's what the NFL is about."
View all of the best shots from arrivals to the locker room to game action and postgame in the best of the Panthers vs. Bills.