CHARLOTTE – Head coach Ron Rivera, determined to emphasize the value of special teams, revealed at the start of the season a new plan for pregame introductions.
Instead of just alternating between offensive and defensive starters each week, special teams would be added to the rotation for every third home game to show appreciation for the third, and often overlooked, phase of the game.
"It's cool because those guys work super hard and don't always get recognized for it. They deserve it," linebacker Luke Kuechly said. "They don't complain. They do everything the right way."
Sunday's contest against the New York Giants is the special teamers' first time to shine.
"I think it's a great tribute. It puts action behind the words," said special teams coordinator Chase Blackburn, a former special teams stalwart with the Giants. "We did this in New York a time or two. But not a rotation like this. It makes special teams just as important."
The media was prepared with questions for the special teams contributors as soon as the week began. Some players didn't even realize this was the week for them to be introduced.
"I don't even know that everyone is aware this is happening," special teams captain Colin Jones said with a laugh.
By Thursday, everyone was up to speed.
The trio of specialists – kicker Graham Gano, punter Michael Palardy and long snapper J.J. Jansen – were at first very coy about their plans for the intros. Palardy joked about mimicking Cam Newton's iconic point and Superman pose. Then he thought about recreating the pregame theatrics of Hall of Fame safety Brian Dawkins.
"Undercover guys that would do something sneaky would be Palardy or Graham," Kuechly said. "I don't know what they'd do, but they're goofballs."
Beyond the specialists and return men, the guys who'll get called to run out the tunnel are the four-phasers – guys like linebackers Ben Jacobs and Jared Norris.
What is Jacobs' plan for his moment?
"Ben will just run out," said Kuechly, who does exactly that and nothing more when his name is announced to chants of "LUUUKE."
"I'm just going to run," Jacobs said, right on cue. "Use it to get warmed up for kickoff."
So who's capable of something fun and interesting?
The consensus from the locker room was Norris, otherwise known as X.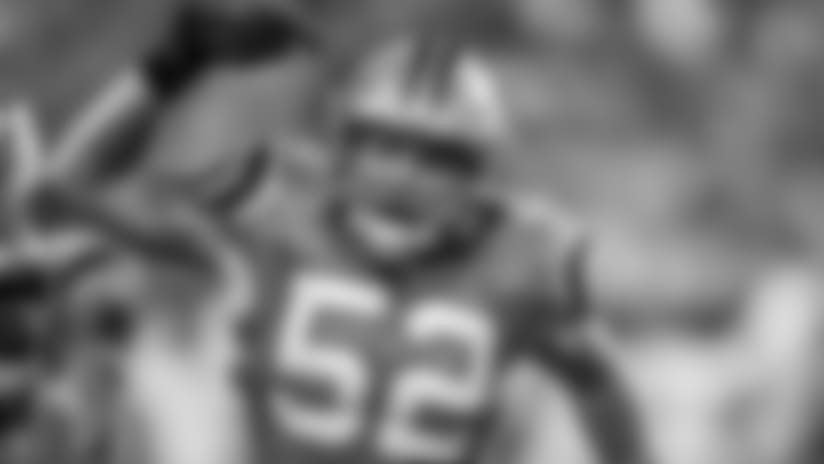 (Quick aside: the X nickname was given to Norris by former Panther linebacker A.J. Klein when Norris was a rookie. "When I got here, there were two Jareds in the linebacker room – Jared Barber and myself. It just got confusing. So A.J. just decided to give me the letter X as a nickname. Then everybody started calling me X and it was like, 'Oh, that's tight.' But it didn't start out in a cool way.")
OK, back to Norris potentially entertaining us with his introduction.
"My money is on X," Jones said. "He needs to come through for me and do something special."
"Yeah, I agree with that," Jacobs said.
"Norris, for sure," linebacker David Mayo added. "Should we put him up to it?"
Norris was caught off-guard when told about the expectations of his teammates.
"Dude, I'm just going to run. I hate to say it, but yeah. I don't really have a good idea," Norris said. "Like, J.J. is the long snapper, you know? It's funny if he does a little quirky thing…
"But who knows, I may surprise you guys."
And if not, it'll still be cool to see a guy like Norris emerge from the fog and flames Sunday.
"It's awesome," Norris said. "I may never play on defense in this league, but it's special to get to run out of the tunnel and hear your named called."