CHARLOTTE – When Norv and Scott Turner arrived in Carolina ahead of the 2018 season, they identified ways to help quarterback Cam Newton improve.
It started from the ground up.
"His footwork, just keeping it compact and making sure his feet and his eyes were working together," said Scott Turner, who is entering his second season as quarterbacks coach. "That's where we really started.
"When your feet match your eyes, you are going to make decisions faster. Getting (Cam's) feet consistent helped the ball go where he wanted it to go."
Newton's completion percentage went up noticeably – 67.9 in 2018 is a career best – and it was clear his decision-making process had quickened. He embraced check-downs, getting the ball out of his hands when things weren't open downfield, and the offense was humming along.
Then the shoulder issues flared up and you know the rest of that story. Now, with Newton having returned to practice, his throwing motion is a hot topic.
The goal is to make Newton's motion more efficient entering the 2019 season.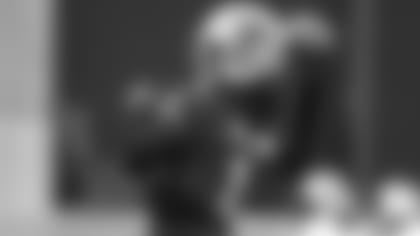 "Making him a little more compact in his upper body. A little more closed off, just so he's not as open throwing the ball. And just to make him as efficient as possible and putting the least amount of stress possible," Turner said. "Now, you are going to put stress on your arm throwing the football – it's not a natural movement. But as little as we can on his shoulder, just to take care of him.
"Going forward, Cam is fully committed to doing everything he can to be the best player he can be and also take care of himself."
The rehab process has gone as well as anyone could have hoped.
Newton has thrown well through two days of minicamp, and his enthusiasm rubs off on everyone.
As the 2019 season opener creeps closer, it's a matter of repetition to get Newton ready to incorporate his new mechanics once the bullets start flying.
"It's not that different," Turner said of Newton's throwing motion. "It's just as far as his set up, the way he starts and being more closed off. The work now until the season is going to build that muscle memory."