CHARLOTTE — The Panthers kept it close and had one last opportunity to stun the defending Super Bowl champs on the road. But kicker Joey Slye's 67-yard field goal attempt sailed wide right as time expired, and Carolina fell in Kansas City, 33-31.
So the Panthers' aggressive, gutsy performance came up just short, and with the loss, they're now 3-6 on the 2020 season.
Here are a few rapid reactions from the contest:
The Panthers had a hard time slowing down Chiefs tight end Travis Kelce, who finished with 10 receptions for 159 yards, just 9 yards short of a career-high.
Kelce's biggest play came midway through the third quarter when he caught a pass on third-and-7 and took it 44 yards to set up a touchdown. Kelce gained 18 yards after the catch, stiff-arming safety Tre Boston in the process to gain extra yards.
Though quarterback Patrick Mahomes and wide receiver Tyreek Hill didn't seem to be on the same page for much of the game, they got it corrected in the second half. Hill was wide open for a 28-yard touchdown early in the fourth quarter, giving the Chiefs a 26-17 lead after a missed extra point. Hill finished with nine receptions on 18 targets for 113 yards and two touchdowns.
Facing fourth-and-14 early in the fourth quarter, quarterback Teddy Bridgewater scrambled and converted with an incredible 15-yard run.
Bridgewater had completed a 28-yard pass to a diving wide receiver Curtis Samuel to begin the drive, but running back Christian McCaffrey was stuffed for a 4-yard loss on the next play. Two incomplete passes left Carolina with an unenviable position on fourth down.
But down by nine with just over 10 minutes left in the game, head coach Matt Rhule elected to be aggressive and keep the offense on the field. When Bridgewater had no one to throw to, he took off. And when it looked like he might get tackled a few yards short, Bridgewater leaped in the air and dove over a defender to gain the first down.
The extra effort kept Carolina on the field for Bridgewater to run in a 4-yard touchdown that cut Kansas City's lead down to 26-24 with 10:22 left.
The game couldn't have started better for the Panthers, who ran 15 plays and took 8:53 off the clock en route to scoring a touchdown on their opening drive.
Carolina converted a pair of third downs to get deep into Kansas City territory: McCaffrey took a run up the middle on third-and-4 for a 5-yard gain before Bridgewater connected with wide receiver DJ Moore for a 7-yard gain on third-and-6 from the Kansas City 24.
But when Samuel was taken down a few yards short of the sticks on third-and-8 from the Chiefs 14, the Panthers elected to go for it. With a blitz coming from his left, Bridgewater hit a wide-open McCaffrey in the flat for an easy 9-yard score.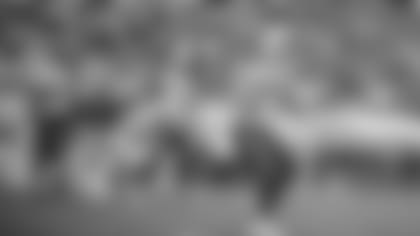 When you're facing the defending champs, risks are necessary, and the Panthers took another that paid off early in the second quarter.
Facing fourth-and-7 from the Carolina 45, the Panthers called a fake punt. With Kansas City's rush coming hard, punter Joseph Charlton fielded the snap, cocked his arm back, and fired a perfect spiral down the left seam to Brandon Zylstra. The wideout made the catch and gained 10 more yards to get down to Kansas City's 27.
A few plays later, Samuel took a pop pass right in front of Bridgewater and went 14 yards to the right for a touchdown, giving Carolina a 14-3 lead. Mike Davis had a nice lead block for Samuel on the play.
The Panthers later went for a surprise onside kick, but the ball didn't go 10 yards before Slye touched it, giving the Chiefs the ball with good field position. They then went 39 yards on seven plays to take a 33-24 lead.
The Panthers were able to hold the Chiefs to a pair of field goals on the home team's first two drives.
Though Kansas City advanced to Carolina's 21-yard line, Mahomes threw three incompletions and the Chiefs had to settle for a 39-yard field goal. Then Mahomes missed a deep throw to Hill from the Carolina 37, which led to a 55-yard field goal.
The Chiefs broke through with a 1-yard touchdown pass from Mahomes to wide receiver Demarcus Robinson midway through the second quarter. But with one final possession in the first half, the Chiefs could not get into scoring territory to cut further into Carolina's 17-13 lead.
Undrafted rookie Sam Franklin has been starting at safety with Juston Burris on the reserve/injured list. Early in the second half, Franklin came up with back-to-back plays that helped keep Kansas City from scoring.
On second-and-10 from the Carolina 19, Franklin read a screen to running back Le' Veon Bell perfectly and blew it up in the backfield for a 5-yard loss. Franklin served as a spy on Mahomes on the next snap, and when nothing was open downfield, the rookie came up with a sack.
The Chiefs tried a 48-yard field goal on fourth-and-20 from the Panthers' 29, but it was wide left.
Look at in-game photos from Carolina-Kansas City in Week 9.