CHARLOTTE – Head coach Ron Rivera had just come over and given him a big hug in the victorious postgame locker room. Star running back Christian McCaffrey had just done the same.
Teammates were still chanting, "Reggie! Reggie!"
Running back Reggie Bonnafon still couldn't believe it was all real.
"After I scored, the guys on the sideline asked me how it felt," Bonnafon said following Carolina's win over Jacksonville. "I said it felt fake."
With McCaffrey suffering from cramps late in the game, Bonnafon checked in for first-and-10 with 3:46 remaining.
Bonnafon burst into the secondary and used his fresh legs to run away from safety Ronnie Harrison – 59 yards to the house just like that.
"I knew it was me against the safety in the second level. Once I made the move on the safety, I knew there was nothing but green grass," Bonnafon said of his first career touchdown. "Hit it and stopped in the end zone."
The Panthers sideline went nuts. No one was more elated than McCaffrey.
"That made my day," said McCaffrey, who had 237 total yards in the win. "Sometimes I feel like I can hog that stuff. To see him go out there and do what he did was really cool. He's one of the hardest workers on our team.
"I'm very happy for him."
Anybody who follows the Panthers knows McCaffrey RARELY comes off the field.
The Panthers scripted a couple plays for Bonnafon early in the game, which was a new wrinkle, and then it was the McCaffrey show per usual.
But McCaffrey's untimely cramping pressed Bonnafon into action. And with the game hanging in the balance, it's tough to come in cold. But hey, Bonnafon made it look easy. After the touchdown run, his next carry went for 18 yards.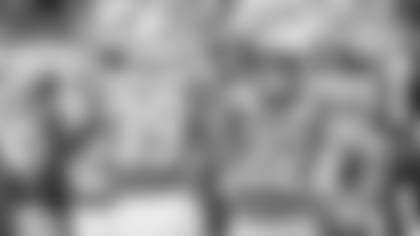 "In crunch time, when Christian was dinged, Reggie popped the long one and had that (18-yarder). Those are big runs for a guy who was standing around all game," tight end Greg Olsen said. "Now here's the ball with the game on the line. People don't appreciate how hard that is."
It's hard to stay ready behind a legit MVP candidate in McCaffrey, who never comes off the field. But credit to Bonnafon for doing just that.
"Obviously, nobody is Superman," Bonnafon said of McCaffrey. "But it's remarkable for him to do what he does. The plays I was in, I was like, 'Man, I don't know how Mac does it.' And he does it week in and week out.
"Man, I get better just watching him."
Bonnafon finished with five carries for 80 yards. As good as McCaffrey is, perhaps a performance like that will lead to more touches going forward for the Louisville product.
"He was a kid in college who played quarterback, wide receiver and running back and (we) never really knew where he would fit," Rivera said of Bonnafon, who spent all of 2018 on the practice squad. "He came out and had a great training camp this year and made our 53. It was just a matter of him getting opportunities."
As left guard Greg Van Roten said, "People are seeing this guy is a hell of a back, too."
The Jaguars found that out the hard way.
"Feels good to get a win," Bonnafon said, "and feels even better to contribute to it."