CHARLOTTE – Throughout a maddening losing streak that has pushed the Panthers right up against mathematical elimination from playoff contention, head coach Ron Rivera has maintained the confidence and control of his football team.
The day after the slide reached six games with a 12-9 loss to the Saints on Monday Night Football, Rivera said he'll continue to focus on what he can control while acknowledging that his future with the franchise isn't one of those things.
"I've been through it a couple of times my first two seasons, but at the end of the day it comes down to one person, and that's the only one who knows," said Rivera, who has faced increasing questions about his job status as the losing streak has increased in size. "I just focus in on getting ready for Atlanta and preparing this football team to go forward. We'll see what happens."
Rivera said he, team owner David Tepper and general manager Marty Hurney have continued to "communicate constantly," and Rivera expects to learn the plan for the 2019 season "when the moment is appropriate." That's presumably after the 2018 season, which has two games still left in it beginning with Sunday's home finale against the Falcons.
Despite Carolina's surprising struggles since a 6-2 start, Rivera's players showed their support for him with their effort on the field against the Saints and with their words after yet another narrow loss.
"You play for a lot of things, and a lot of it is the coaches that bust their butts to put us in position to play," linebacker Luke Kuechly said. "Coach is great. Coach has been great since the day I got here.
"We've got a great coaching staff. We've just got to make a couple of more plays."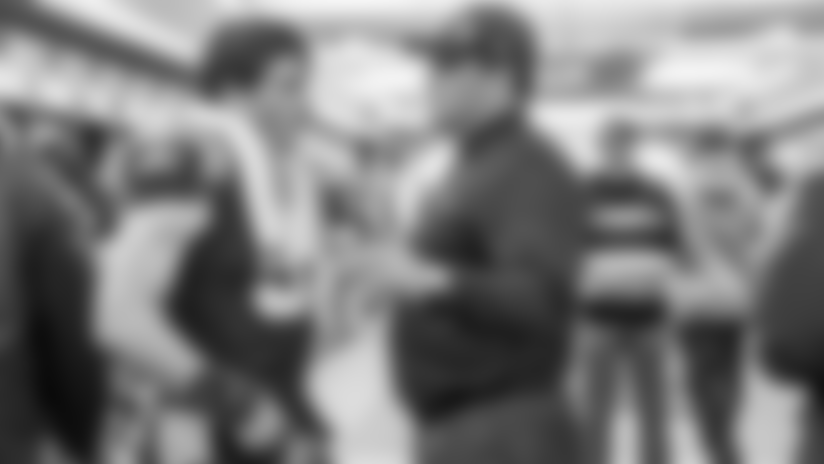 The losing streak started with a blowout loss at the Steelers, but since then the Panthers have been in every single game at the end but have lost every single game at the end. Monday's setback left the Panthers with a two-percent chance of making the playoffs according to the New York Times simulator.
Some of those scenarios within the two percent aren't as convoluted as you might think. For there to be any chance, the Panthers (6-8) must win their last two games and the Vikings (7-6-1) must lose their last two games. If that happened, nearly 50 percent of scenarios would result in Carolina claiming the No. 6 seed, including one as simple (relatively speaking) as the Eagles losing to the Texans this week and beating the Redskins in Week 17.
That's six games that have to all go a certain way, though none of them individually would qualify as shockers to Vegas.
"Believe it or not, there's still a slim glimmer so we'll see," Rivera said. "We'll continue to focus in on playing football. We've got Atlanta coming to town, and for all intents and purposes we play to win."
That never-say-die attitude strangely enough is annoying to a sect of Panthers fans that think such talk is a waste of time, or that worse think that making the playoffs against all odds would be a waste as well. But Rivera's approach to it is among many reasons his team has his back.
"He keeps us excited about playing football. That's who he is. We love him for that," linebacker Thomas Davis said. "Coach Rivera is Coach Rivera. He's the same guy when we were 15-1 one year and he's the same guy now that we're 6-8. We feed off his energy. He stays upbeat. He's a motivator."
Rivera, a two-time NFL Coach of the Year, has led the Panthers to the playoffs four of the past five seasons. He's also been in this tenuous position before.
Midway through his second season in 2012, a 1-5 start prompted ownership to part ways with Hurney. The Panthers lost three of their next four to fall to 2-8 but rallied to win five of their final six to set the stage for a 2013 season that started Rivera's run of playoff success.
The 2013 season started off shaky as well, but a 1-3 start gave way to an eight-game winning streak and the first of three consecutive NFC South titles. No team had won the NFC South even two years in a row before.
"I control what I can. It's one day at a time, and right now that's preparation for Atlanta," Rivera said. "I'm really happy here. I really do appreciate my place here on this football team and in this city, in this community."
View photos from Carolina's loss to New Orleans on Monday Night Football.