MATTHEWS, N.C.  – You had to wonder: If Damiere Byrd were to bowl a strike, would the wide receiver launch into his signature "Byrd call" celebration?
Byrd wondered the same thing.
"I'm not sure," he said. "I need to get my first strike first."
Strikes were difficult to come by Saturday, but for once Panthers players weren't wrapped up in the competition of it all. The 40 or so players in attendance and Carolina's coaching staff were having just as much fun as the fans who filled the 56 lanes at AMF Carolina Lanes for the seventh annual Coach Rivera Bowl-A-Palooza.
"I'm not sure who our best bowlers are, but some guys act like they are great bowlers. You'll get a few that walk in with their own ball, but then they end up bowling like 90," Byrd said. "It's always a great time. Always great to see so many people come out, especially for such a great cause.
"Coach Rivera is one of the best coaches I've ever been around, a players' coach who understands what's going on. When you have a coach who will do anything for you, you want to do things like this for him."
The annual event is the brainchild of Ron and Stephanie Rivera, their chosen method for supporting the Ronald McDonald House of Charlotte. Stephanie said the inaugural event in 2012 raised $30,000 for the "home away from home" for families of seriously ill children. Last year's event raised $117,000.
"Stephanie and I talked about what charities we wanted to get involved with (when Rivera joined the Panthers in 2011), and we decided on three," Ron Rivera said. "The Humane Society of Charlotte because we're pet lovers; the USO because of our families' background in the military; and the Ronald McDonald House because it serves both children and families."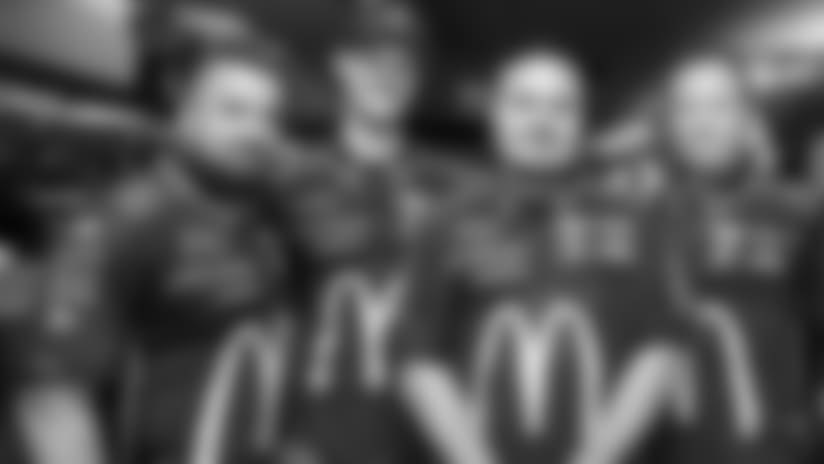 One of Saturday's fundraising foursomes – each of which paid $1,000 to share a lane with a Panthers player – recently helped donate thousands to the Charlotte house. Members of NASCAR racer Jamie McMurray's crew, decked out in McDonald's jerseys, helped Chip Ganassi Racing win the Comcast Community Champion of the Year award and the right to donate $60,000 to the charity of their choice.
"This gives us another winning connection with the house," said Jeff Dowling, who handles media relations for McMurray. "I saw something about this event and asked Jamie if he would mind sponsoring a lane today. He and Coach Rivera have become friendly. Stephanie and Ron hosted him at a game, and they've come to a few races.
"This is great. I'm just amazed at how many players and coaches came out to support this."
Ron Rivera said he grew up bowling, even competing in a league in his youth. Shortly after he retired as an NFL player about 25 years ago, he came close to bowling a perfect 300 ("All we need is one strike, Ronnie!").
"My high game is a 297. I choked on my last one," Rivera said. "Had a chance for a 300 game but only got seven pins on my last roll."
Around that time, the Riveras joined a bowling league in their Chicago suburb.
"He's a very good bowler – very good. He's got that curve, and he can tell if the lane is too oily or not oily enough," Stephanie Rivera said. "It was a good Midwest thing to do when it was snowing outside."
It's also a good thing to do on a summery Saturday – for a good cause.
View photos from Head Coach Ron Rivera's Bowl-A-Palooza.