CHARLOTTE -- If Year One is all about learning, the 2018 season provided the Panthers' rookies with a crash course on how to balance the highs with the lows.
Defensive end Marquis Haynes, linebacker Jermaine Carter Jr. and linebacker Andre Smith played occasional roles. Defensive tackle Kendrick Norton was signed by the Dolphins off the practice squad. The team's top four draft picks played with more regularity and they showed promise.
Cornerback Donte Jackson - the 55th pick in the 2018 draft - had a solid year, finishing tied for seventh in the NFL in interceptions (four) - the most among rookies - and adding 73 tackles and nine pass deflections.
In Week 14 against the Saints, he became the first Panther to intercept a two-point conversion attempt and return it the length of the field for two points.
Jackson admitted that his two-interception game in Week 3 against the Bengals may have been his favorite, but the LSU product didn't want to limit himself to just one best moment.
"(There's) plenty of games that I'd like to take from my rookie year and put 'em in my vault of good performances," he said.
It's well-known that Jackson doesn't lack self-confidence, but he did recall an interaction he had with safety Mike Adams, who the team calls Pops, during training camp that inspired him early on.
"Pops used to always tell me, 'Nobody should catch a pass on you. That's just the way it is. Nobody should catch a pass on you and I feel like you should think that way.' And it just stuck with me all throughout," Jackson shared. "That just shows the amount of confidence that he had in me as a rookie corner.
"A guy who's been in the league 15 years, you know, he probably didn't have that many guys that came in and he could trust that early so it's a big deal."
While Jackson is already positioned to be a key piece of Carolina's current and future plans, safety Rashaan Gaulden, Jackson's locker mate, is still looking to find his fit.
Gaulden, the 85th pick out of Tennessee, saw 290 combined snaps on defense (143) and special teams (147), but the bulk of his time both in practice and games came with special teams coordinator Chase Blackburn's units. He did perform well in the season finale at New Orleans when given his first substantial opportunity.
Gaulden pegged having "humility and patience" as his biggest takeaways from his rookie season, traits that could also be attributed to a player Gaulden looks up to: fellow safety Colin Jones, who was named special teams captain to start this season.
"He's just been a good mentor, man. Just helping me out and being a pro," Gaulden said of the eight-year veteran who has played seven seasons in Charlotte. "He would just talk to me and say don't think about short term, think about long term."
On the offensive side, wide receiver DJ Moore (24th overall pick from Maryland) and tight end Ian Thomas (fourth-round pick from Indiana) also spent time learning from established names that believed in their abilities.
Moore formed a tight bond with second-year wideout Curtis Samuel, but the work he put in with veterans Devin Funchess, Torrey Smith and Jarius Wright should prove to have residual effects over time.
At times, receiving praise for a spectacular play one week and backlash the next for a turnover defined Moore's season. He acknowledged that has to change.
"Being consistent week in and week out. That's the best thing I have learned this whole season," he said about what will stick with him most from 2018.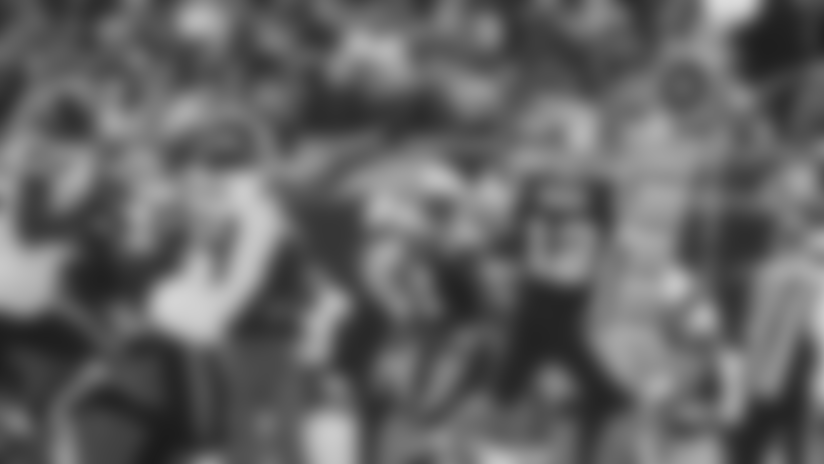 If he's able to do that in 2019, well, his accomplishments are already speaking for themselves.
Like Moore, Thomas pledged to learn from a roller coaster of a season. As Greg Olsen's backup, Thomas' playing time was up in the air coming in, despite flashing his potential during camp and preseason.
Olsen's injury spells paved the way for two extended stints on the field for Thomas, including starts in six of the seven games Olsen missed. He finished with 36 receptions for 336 receiving yards and two touchdowns.
"Do your job and do it to the best of your ability and everything else will fall in place," Thomas said on what he learned. "I just learn stuff from each guy, and that's from (me) making mistakes or just wanting to know more and asking questions.
"You learn a lot from a guy like Greg and it's definitely a blessing to have guys like Chris (Manhertz) and Alex (Armah) in your room to help you out every day."
With the Panthers falling short of the playoffs, the graduating rookies have plenty of time to work on improving in the offseason. Jackson's parting words as he left the facility the day after the season finale have already set the tone.
"Next year will be my best season. I'll be way better. Like, the amount of work I'm gonna put in this offseason doesn't even make any sense," he said. "Made a name for myself this rookie year and that was one of the big things that was on my mind coming in.
"Making a name for yourself, making sure everybody like you, make sure everybody knows you and I did that. I think I did something positive to build on."