CHARLOTTE -- One of the lasting images of Carolina's Week 5 win against New York will be the team running onto the field to celebrate a close win.
But by the time the dust settled and Monday morning's press conference arrived, that wasn't the type of rushing everyone had in mind. Head coach Ron Rivera noted that "winning covers up a lot," and one of those things was Carolina's lack of pressure on Giants quarterback Eli Manning.
The Panthers' defense had registered eight sacks in the previous three games, but against a Giants offensive line that had allowed 15 sacks of Manning, Carolina only got to him once (a 1-yard sack by Luke Kuechly).
So where was the pass rush? Rivera credited New York's well-executed plan to buy Manning more time.
"They did keep him clean. One of the things that we tried to counter that was we tried to drop eight at one time and only rush three," Rivera said. "They were max-protecting where they line up like a punt formation (and) they put wings out there to chip our guys, widen our guys to slow our guys down, and they were effective.
"They threw the RPOs (run-pass options) pretty effectively until Mike (Adams) made his (interception). Their play-action was pretty good. We were able to limit their runs, but we were stymied as far as their protection is concerned. We have to give them credit."
Manning finished the day with a season-high 326 passing yards, including a 55-yard bomb to wide receiver Russell Shepard that set up a 15-yard touchdown pass to rookie running back Saquon Barkley to give New York a 31-30 lead with 1:08 remaining. The Giants got the ball out of Manning's hands quickly but they also had a number of chunk plays in the passing game, as New York averaged 10.1 yards per attempt.
Defensive coordinator Eric Washington wasted little time in taking responsibility for the team's shortcomings in disrupting the passer.
"I won't make any excuses why we didn't rush the way I believe we're capable of rushing. We have a very high standard where that's concerned," said Washington. "When we have one person that's one-on-one, we expect that person to be a factor and to at least affect the quarterback."
Washington also emphasized the need for more urgency along the defensive line.
"You want to try to get your hands up and collapse the pocket as much as possible, which effects the quarterback's accuracy," said Washington. "But when he's throwing a ball deep, when he's taking a five, seven-step drop to try to put the ball down the field, we have to be on the scene. We have to show up.
"We'll do a better job with that."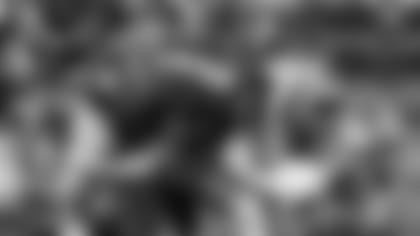 On a more positive note, the Panthers effectively contained the Giants' running game. Both Rivera and Washington preached the importance of improving the run defense, and in the Week 5 win, the defense did deliver in that respect.
After allowing a rushing touchdown in each of the first three games, the Panthers denied the Giants of any scores on the ground and also managed to hold Barkley to 48 rushing yards on 15 carries.
"Our run defense was really good against a really explosive back," Washington said. "Last week, there was a big emphasis in getting back to re-establishing who we are as a front seven. Our defensive line, especially the tackles, we really depend on them to really penetrate up front and try to create a new line of scrimmage and then fundamentally everyone needs to play with their hands. There's a fundamental emphasis with the guys in the box."
Carolina's ability to contain Barkley contributed to a statistic you rarely see: The Giants went 0-for-7 on third downs. But the Giants didn't let that stop them from putting up 31 points, their most since the 2015 season.
"We were really good on third down," Washington said. "But there are some things we obviously need to correct."