CHARLOTTE – Sam Darnold may not have known it when he was young, but moments he spent playing in the grass as a child may have prepared him for an unconventional touchdown "rush" in his first start as the Panthers quarterback this season.
Darnold's roll into the end zone during the third quarter of Sunday's 23-10 win over the Broncos was a mistake averted, given he had to recover his goal-line fumble to make it there. But between instinct, effort, and football IQ, Darnold got it done, even if it looked a little weird.
"Whenever you're on the goal line, it's whatever you can do to get in the end zone, so that was kind of my thought process there," Darnold said. "It's a good highlight tape to add to the repertoire. You'd like to be able to hold onto the football, make that guy miss, and just walk into the end zone, but it's good to get in there."
Darnold's sixth rushing touchdown of his Carolina career, which gave the Panthers a 14-point lead, tied him with running back Chuba Hubbard for the most rushing touchdowns by a Panther in the last two seasons.
And that is if you saw what Darnold did as a touchdown rush. Arguably, it'd make more sense to call whatever happened a touchdown roll.
At the Denver 2-yard line on second-and-goal, Darnold faked a handoff to Hubbard and took off toward the end zone. That's when Broncos linebacker Josey Jewell moved toward Darnold and swiped the ball out.
Darnold chased it and pulled it in with outstretched arms at the 1-yard line. Knowing a defender hadn't touched him, he tucked the ball into his chest before going stop-drop-and-roll into the end zone.
Darnold completed the dramatic effort with a cheeky glance toward the officials and TV cameras, laying on his belly with the ball nestled against his chest. Terrace Marshall Jr. and Cam Erving gestured for the touchdown, and the call finally came.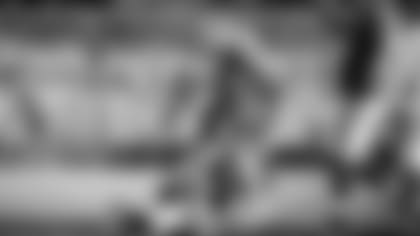 "I think it's kind of like natural instinct at this point," said wide receiver Laviska Shenault Jr., who saw the play unfold. "It probably depends on how long you've been in the league because (in) college, if you hit the ground, you can't do anything else. But it probably should be muscle memory (for him) at this point."
Marshall probably had the best view of the play while he blocked Denver cornerback Damarri Mathis. He said he had a quick instinct to jump at Darnold's fumble before he saw the quarterback jump on it himself, instinctually.
"It takes a lot – especially (at) the level we play on, just concentration and being able to stay in the moment," Marshall said. "That's just Sam. He was able to make the play."
It was perhaps the most noticeable play of what ended up being an efficient return to the offense for Darnold. He completed 11-of-19 passes for 164 yards, with a 5-yard touchdown to DJ Moore in the first quarter. Darnold and Moore later connected on a 52-yard sideline beauty that set up a field goal.
Darnold's ability to orchestrate a balanced offense (185 rushing yards) without a turnover helped him earn another start. Wilks said Darnold would start against the Seahawks following the Panthers' upcoming bye.
"We talk about that all the time, just really trying to manage the game," Wilks said. "When I say manage the game, I'm talking about being smart, not forcing it in there, always ready to take your check down. Particularly when we get in field goal range, not taking a sack, throwing the ball away, just being aware of the situations. I thought he did a good job of that today."
Center Bradley Bozeman has been impressed by how Darnold handled the ups and downs of this season – from losing the starting job to Baker Mayfield in training camp to recovering from a high ankle sprain and coming in to lead a win over Denver.
"Sam has come in here and done his thing every single day," Bozeman said. "From the injury to being on IR, he's in there studying the film; he's doing the things he needs to do to be locked in. And this guy has done the right thing every single day. Just so, so happy and proud for him to come and play like that."
And while Darnold has been preparing for a start throughout his recovery this season, when asked how long he had practiced that touchdown roll, he joked that he'd readied that move long ago.
"Ever since I can remember – rolling in that grass when I was young," Darnold said with a grin. "I jumped on top of it, realized no one touched me, and figured I would just try to get in the end zone in any way possible."