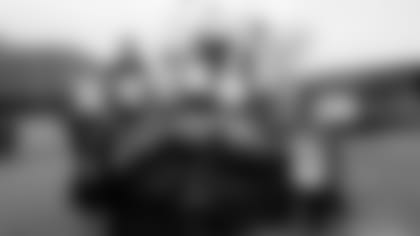 ](http://www.panthers.com/media-vault/photo-gallery/School-Spirit-Rock-Contest/fb91b787-689c-4f69-abb6-0e4d293bef0e) Click on the picture to view the spirit rock photo gallery.
Consider the iconic school spirit rock. Before email, texting, Facebook or Twitter, the humble school spirit rock was the workhorse of social media. From birthday greetings to daring prom date invites to rivalry game touts, communities have long been able to count on the rock to deliver must-read messages.
To celebrate the tradition of the school rock, the fifth annual Panthers Spirit Rock art contest presented by the Allen Tate Companies gave elementary, middle and high school students the opportunity to show their Panthers pride while encouraging creative arts expression.
The contest resulted in $5,000 in arts grants from the Panthers and Allen Tate Companies being distributed to the schools with the top 10 rocks. The top rock honor went to Carl A. Furr Elementary School in Concord, N.C., which will receive a $1,000 arts grant.
"The Spirit Rock art contest is greatly anticipated each year," said Riley Fields, Carolina Panthers director of community relations. "The continuing trend of new ideas that use mixed media as well as sophisticated artwork and design concepts is really fun to see."
Dozens of schools from across the region submitted creative entries. Enjoy the photo gallery of some of the top rocks and some of the judges' other favorite designs.
SPIRIT ROCK WINNERS

1st Place: Carl A. Furr Elementary School
2nd Runner-up: Davis Drive Middle School
1st Runner-up: Piedmont High School
2nd Runner-up: East Gaston High School
1st Runner-up: Rea View Elementary School
2nd Runner-up: Landsdowne Elementary School
1st Runner-up: South Mecklenburg High School
2nd Runner-up: Northeast Middle School
1st Runner-up: Union Academy
2nd Runner-up: York Comprehensive High School