CHARLOTTE – In the wake of Ron Rivera's departure, quarterbacks coach Scott Turner became offensive coordinator while his dad transitioned to a special assistant for interim head coach Perry Fewell.
A father turning over play-calling duties to his son midseason? You don't see that every day.
"Yeah, I don't know if it's ever happened. It's a very unique situation," Turner said. "But it is what it is, I have to be ready to embrace it."
The 37-year-old Turner got his first job in the NFL on Rivera's initial staff in Carolina as a quality control coach. He expressed his respect for Rivera and thanked him for that shot to get his foot in the door.
Turner, a former quarterbacks coach and wide receivers coach, has now been thrust into the coordinator role. It'll be his first ever chance to call plays.
"It is a big opportunity," Turner said. "People have just told me to be myself. Basically, call what you think is going to work."
Yup. Don't overcomplicate it. Trust your training and your instincts. Heck, you've got 40 seconds to get the call in.
It's a lot of added responsibility, but Fewell is excited to see what Turner can do.
"You can see the innovation in his mind of what he would like to do and what he saw when he saw a defense and the kind of mismatches he thought he could create," Fewell said. "I think he has groomed himself through the years of being with his dad.
"I think Scott will be himself when he calls the game on Sunday, and if he needs help from his dad, his dad is there."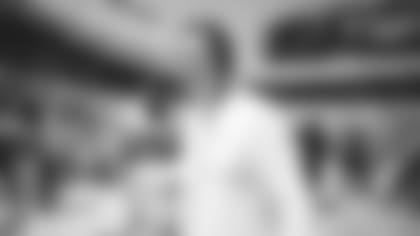 Norv will remain up in the coaches' box during Sunday's game against the Falcons. Scott will remain on the sideline. Scott has been communicating the plays to the quarterbacks all year, and that will also continue.
"I'm comfortable down there, my communication with Kyle is good and I like to be able to speak directly to him," Turner explained.
Quarterback Kyle Allen and Turner have had a strong relationship since Day One. They first met at Allen's pro day, and when Allen went undrafted, Turner convinced the Panthers to bring him in.
"Scott went out on a limb and found me and told the people here to bring me here. I'm thankful for that," Allen said. "He was the one who said, 'Hey, this guy on the board right here, he might have something.' Scott is always going to be my guy. I'm excited about the opportunity he has.
"He understands the gravity of the situation and the opportunity he's been given. And he's prepared for it. Everyone in the offensive room has a lot of confidence in him."
Will Turner put his own unique stamp on the offense this week?
"I guess we'll see," Turner said.
And as for the future, he's not thinking too far ahead.
He's more concerned about finding whatever formula works to get the ball in the end zone so Carolina can snap this four-game losing skid.
"I'm trying to do anything in my power to get us to go out there and score points and gain yards," Turner said. "That's my job. I'm going to do the best I can at it. Whatever happens, happens after that."