MOBILE, Ala. — You never know when your feet are going to fly out from under you — metaphorically or literally.
That's why head coach Matt Rhule wants to train his younger assistants for bigger jobs. And it's also why coaching assistant Cedric Whitaker wears cleats to practice every day.
Whitaker is one of a number of younger coaches on Rhule's staff who's playing a larger role this week at the Senior Bowl. For the short-term, it's about covering for four vacancies because of staff changes and COVID-19.
But it's very much on purpose for Rhule, who remembers his days as an assistant offensive line coach for the Giants, and wants to give his staff every chance to learn more and do more.
"We've tried to build infrastructure with our young coaches to grow them up through the system, maybe replace coaches as they leave, so this is a good week for those guys to get an opportunity," Rhule said. "They've done all the work, they've earned the opportunities, so now they have a chance to step up just a little bit.
"They've coached. This is another step for them and a good opportunity to show what they can do."
The Panthers parted ways with defensive line coach Mike Phair, and are without offensive coordinator Joe Brady, linebackers coach Mike Siravo and cornerbacks coach Evan Cooper this week due to reasons related to COVID-19.
Brady's job was partially done before they left, as the young coordinator had already written all the week's practice scripts. Brady doesn't coach a specific position during practice, and when the actual Senior Bowl rolls around on Saturday, Rhule plans to let tight ends coach Brian Angelichio, offensive line coach Pat Meyer, wide receivers coach Frisman Jackson, and running backs coach Jeff Nixon each call plays for a quarter.
But the game's only a small portion of the job the Panthers have to do, so they have a lot of staffing to cover.
Assistant defensive line coach Frank Okam is coaching the D-line this week. Coaching assistant Grant Udinski is filling Okam's old role with the line.
Defensive run game coordinator Al Holcomb is coaching the linebackers, while Whitaker is taking over the cornerbacks in Cooper's absence.
And Whitaker is doing it in a big way, as he does every day.
He might not be a household name, but he became a bit of a viral sensation within the fanbase for his exuberant sideline high-stepping during the Rams game last season.
If it's possible, Whitaker was moving even faster during Tuesday's practice.
After giving his players instructions before team drills, he'd retreat to the back, making it that much more obvious when he sprinted to the fore to do some more teaching.
That teaching is loud. Occasionally it includes a word or two you can't repeat on a family website, but it's always delivered at 100 mph.
"YOU CAN'T WIN UP HERE," he said to his group of corners, with his hands up in the air under a pair of imaginary shoulder pads.
"YOU HAVE TO WIN DOWN HERE," he continued, chopping his feet furiously to emphasize the point he's trying to teach about proper technique and positioning.
"You try to keep it moving, but it's not about me," Whitaker said. "I run to get those guys to run to the ball. That's the makeup of our defense, to run to the ball all the time.
"Even though I don't have the pads on, I do have the cleats on, and if they see me running around, that gets them fired up."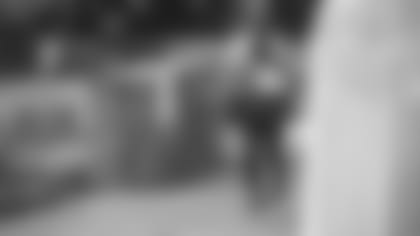 Whitaker wears athletic footwear on the fields for one very practical reason. He once fell flat on his assistant while making a point.
"At any moment, I could bust out in a full sprint, and I'd hate to be running and not having anything underneath me," he said with a laugh. "So I definitely wear them every day."
He said the spill in question came when he was coaching at Division-III Texas Lutheran, and he vowed that day: "This is never happening to me again."
Shortly after that, he fell into something even better.
While helping teach at a clinic in San Angelo, Tex., Whitaker met Rhule and defensive coordinator Phil Snow.
Weeks later, Whitaker applied to become a graduate assistant at Baylor, establishing the link that brought him to the Panthers staff.
The influence of Snow is obvious. After sprinting to coach his players, Whitaker runs back nearly as quickly to the veteran coordinator to get his own coaching — on how he's doing his new job.
"When you have a guy like Coach Snow in the building, it would be crazy not to want to be critiqued by him," Whitaker said. "I love when he's around me. When I finish coaching players, I ask him, 'How can I do better at this. How can I teach this better?' At the end of the day, I don't want to be a regular coach, I want to be an elite coach. I've got a few great examples right here.
"Basically, I have to have my mind where my feet are. It would be nice to be like Coach Rhule one day, but I know in order to get to that point, I have to be able to digest everything he's telling me and be process-oriented. Whatever job I have at that moment, be elite at that job right now."
Rhule can clearly provide a good role model in that regard.
He recalled his year as an assistant offensive line coach with the Giants. On that staff was new Panthers quarterbacks coach Sean Ryan, who worked his way up through quality control, offensive assistant, and receivers coach jobs before working with quarterbacks at multiple stops.
When Rhule looks at teams he admires, like the Patriots, he sees several home-grown coaches who worked their way from the grunt jobs into better ones.
And as Rhule grew into his job, he wants to make sure others have that chance as well.
"That's kind of our process, really," Rhule explained. "They learn from the ground up, they do the entry-level stuff, and then as they master that role, they take on more responsibility. That's the way we work. When you have a great leader like Phil, they learn the right way, learn how to do everything, and learn how to do it at a high level.
"That's the plan we have in place. We have these young coaches, we give them responsibilities, as they master them, we keep growing them. We don't want to always go out and hire outside coaches. We want guys to learn the Panther way and go from there."
View photos from the American team's first practice in Mobile, Ala.