Cam Newton is a singular talent. He's the face of a franchise. He gives the Panthers their best chance to win in 2019 and beyond.
That's why it's time to shut him down.
Newton's passer rating (52.5) and completion percentage (55.2) against the Saints were both season lows. What was most alarming, though, was his continued inability to throw downfield. Newton completed just one pass that traveled more than 10 yards past the line of scrimmage – a 17-yarder to Curtis Samuel midway through the first quarter.
If we can see Newton struggling to get vertical, you can sure bet NFL defensive coordinators see it. The Saints routinely lined up just one safety about 15 yards downfield. That came a week after interim head coach Gregg Williams admitted the Browns were squatting on routes, including one where Newton underthrew Curtis Samuel, who had initially beaten his man in coverage.
When asked how his shoulder was feeling after Monday's game, Newton quipped, "It's all right."
But when pressed, he revealed his true frustration.
"You do any and everything to make sure your body is at peak performance. From cardio, treatment, practice, film, cardio, treatment, practice, film. It's been repetition. I think it's disheartening to me because there's so much invested time put in," Newton said.
"Obviously my arm hasn't allowed me to do a lot of practice. I've been on a pitch count for a long time, but at the end of the day, it is what it is. That's not a scapegoat. That's not something that I want people to bail me out on. It's just something that is reality."
The reality isn't pretty.
According to NFL Next Gen Stats, Newton has completed just four of 16 attempts that have traveled 20-plus yards beyond the line of scrimmage during the Panthers' six-game losing streak. He didn't even attempt one Monday while going 16-for-29 for only 131 yards, the fourth- lowest total of his career.
But stretching the field has been a struggle all year. Those same Next Gen Stats say Newton has completed a total of nine passes of 20-plus yards. That's a tough way to win in the NFL.
So what the heck is going on? The results are clear. The answer isn't.
"I wish I could say what the injury is because I don't really know what it is either," Newton admitted. "No matter how much you push, no matter how much you ice, the anti-inflammatory you take. Trust me, I've done it. Acupuncture, massages. There's not a night that goes by without me getting some type of work done on my arm. You just don't have the strength.
"From the range of motion, you work on the range of motion then come game time and you never know how the game can play out. Of course you try to stay under 25-30 throws, but if you surpass that or you get hit on it, or you have to run, or you get tackled and fall on your shoulder, certain things happen."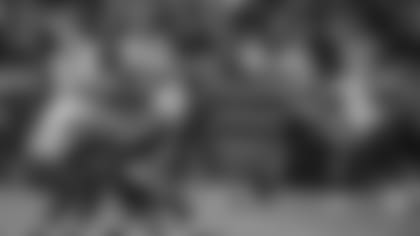 Which brings us to another reality: Trying to stay around 25 throws or hoping your quarterback doesn't bang his shoulder isn't an ideal way to live in the NFL. Neither is holding him out from multiple practices per week, which in turn throws off the passing game's timing – an effect that was painfully evident Monday.
That's why the Panthers need to have a serious chat this week. Newton, head coach Ron Rivera, general manager Marty Hurney and maybe even owner David Tepper should gather and talk about Newton's status for these final two games.
"What we are going to do is see how the week goes right now," Rivera said. "We will continue to evaluate and see what the doctors have to say."
And if it were Newton's call?
"That's not on me," he said.
"I guess we'll have to have that conversation if we have that conversation. I'm not looking forward to that conversation."
Especially with his hometown Falcons next on the schedule. But if Newton isn't a threat to complete passes even 15 yards downfield, he's not helping himself or the Panthers.
Part of the equation will be whether they believe a hobbled Newton still gives them a better chance to win than backup Taylor Heinicke. But the short-term isn't what's most important right now. The Panthers have to get their most important player right for the long-term.
That may mean another offseason surgery. Or not.
"There is no magical surgery. It's just time," Newton. "I've been hearing that since the injury happened."
Whatever the solution is, the Panthers aren't going to find it by playing Newton again in 2018.
"I have tried and done everything. I think the frustration, like I said before, comes when no matter what you do – you can rub magic dust on it, go to this or that person, have the placebo things done where you think certain things are what they are – and you come out and you're still the same," Newton said.
"Like I said, over the past couple of weeks nothing has really changed."