CHARLOTTE – A lead over the Saints going into halftime?
Anyone pulling or playing for the Panthers would have been overjoyed if told that would be the scenario before Monday night's game started.
But it didn't feel that way when Carolina went into the locker room with a 7-6 lead.
Instead, the way the first half ended felt ominous.
That's because the Panthers had set themselves up to seize control of the game. And they didn't.
"We had some pluses and some opportunities," head coach Ron Rivera said, "and unfortunately we missed out."
The Saints, trailing 7-6, had the ball at the Carolina 47-yard line coming out of the two-minute warning. Quarterback Drew Brees tried to connect with tight end Dan Arnold, but linebacker Thomas Davis was all over it, deflecting the ball into the air for cornerback James Bradberry to make the interception.
"I went to go chase the over route, and TD made a great play on the ball," Bradberry said. "It lingered in the air for a little bit so I was able to come by and make a play."
Bradberry returned his first interception of the year 29 yards to the New Orleans' 42, and suddenly it was the Panthers who were in position to add points before halftime with the crowd ready to explode.
Quarterback Cam Newton and the offense worked their way to the Saints' 13-yard line for second-and-3, and they had what they wanted with wide receiver Devin Funchess isolated against cornerback Eli Apple.
Newton attempted a fade pass to the 6-foot-4 wideout (his only target of the night), but the ball was underthrown and Apple positioned himself well to come down with the interception in the end zone.
"I thought the corner did a nice job getting all the way underneath him and undercutting the play," Rivera said.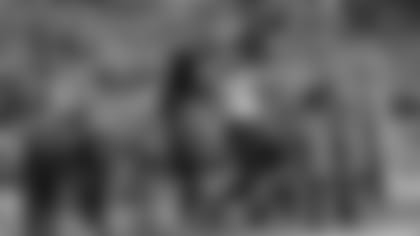 Newton stood frozen in disbelief as the Saints sideline celebrated the red zone takeaway.
"I was just trying to give him a chance," Newton said. "I saw man-to-man. That's what you want…
"I tried to put it in an area where he could kind of contest it. It could be higher, it could be (near) the back pylon or whatever. That's just the frustration of what these last couple games have been. You wish you would have did this, you wish you would have did that."
So instead of 10-6 or 14-6, it remained 7-6 going into the second half.
And everyone in the stadium knew that prime example of a "missed opportunity" would loom large.
In a game that finished with the Saints on the right side of a 12-9 final score, it sure did.
"We would have loved to have been able to score there," Rivera said. "Who knows?"