CHARLOTTE – It was a surprise no one saw coming.
Last Sunday the 1-7 Falcons marched into New Orleans and handed the Saints a 26-9 loss, marking just their second defeat of the season. For the first time ever with quarterback Drew Brees under center, the Saints were kept out of the end zone at home in the Superdome.
So, what went wrong for the Saints to allow the upset? More importantly, as the Panthers prepare to face Atlanta this Sunday, what went right for the Falcons?
First and foremost, Atlanta kept the explosive Saints offense off the field – a strategy the Falcons will likely try to replicate this week against a weapon like running back Christian McCaffrey.
The Falcons were able to milk the clock all game long, and the final time of possession showed it, with a seven-and-a-half-minute discrepancy in Atlanta's favor (33:46 to 26:14). With a limited number of possessions, Brees and the Saints weren't able to get into their typical offensive rhythm of pounding the rock with Pro Bowl running back Alvin Kamara. Prior to Sunday, the Saints averaged 26.5 rushing attempts per game, but the Falcons clock domination forced them to lean on the pass – only rushing the ball 11 times.
When the Saints did rush the ball, it proved to be fairly effective. New Orleans averaged 4.7 yards per attempt, but playing from behind with fewer possessions than normal doesn't necessarily lend itself to that style of play.
And when Brees dropped back to throw, he often had pressure in his face. The Falcons sacked him six times and recorded 11 quarterback hits.
"They're a good pass rush team," said Brees, who was sacked just once in his three games prior this season. "They've got a lot of guys and they rotate them. I think they got after us at times, but listen, that's the great equalizer in any game is the pass rush."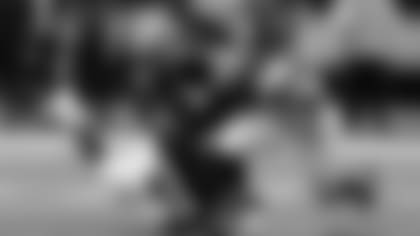 This game between NFC South rivals was a perfect example.
"I thought the ability to affect the QB, when you get into those long yards and get a couple sacks, and that is a completely different call when you get into second-and15 or third-and-15," Falcons coach Dan Quinn said. "They have been such an effective team where you can screen and utilize every player there, so when you can create some of those long yardage ones that is a real factor. The other side of that, we didn't play as many snaps defensively, having some long drives extended."
The Saints were just 25 percent (3-of-12) on third down conversions, down from their 45.2 percent success rate during the team's first eight games. With the Saints inability to extend drives, it's no wonder Atlanta was able to run out the clock.
Another key factor in the Falcon's time of possession domination was due to their season-high 143 rushing yards. Quarterback Matt Ryan told reporters after the game that establishing the run was a huge part of the game plan. In the previous three games combined, the Saints had only given up 132 yards. New Orleans entered the game with the No. 2 rush defense in the NFL. For a Panthers defense that's struggled to stop the run, that has to be an intimidating statistic.
"They were more effective running the ball than teams we've seen to date for quite a while," Saints head coach Sean Payton said.
Said Ryan: "I thought our offensive line played extremely well. You never want to see somebody go down, and (Devonte Freeman) was out for the second half. But Brian Hill stepped up and ran the football effectively for us. He would turn some of those two- or three-yard runs into five- or six-yard runs with just his physical nature."
Atlanta's running backs shared the workload in New Orleans, with Brian Hill rushing for 61 yards and Devonta Freeman adding on 38 more before exiting due to injury. Time and time again, the Falcons' ground game led Atlanta down the field and kept the Saints' offense sidelined.
On top of everything, the Saints played sloppy game. New Orleans was flagged for a season-high 12 penalties for a total of 90 yards. Since being charged with 11 penalties in back-to-back games Week 2 and 3, the Saints had cleaned up their play.
But against the Falcons, they fell back into their old ways. Atlanta was able to draw four illegal hands to the face flags, as well as force two false starts and a delay of game, among the other penalties that proved costly.
By keeping the Saints offense off the field and not allowing their offense to develop a rhythm, the Falcons found a blueprint to toppling one of the NFC's best teams. Throw in a number of self-inflicted wounds on New Orleans' behalf, and suddenly the upset doesn't look so surprising.
"It's kind of one of those, it's not a lesson, but this league is too good week-to-week where you can go in and not be focused and ready," Payton said. "This has always been a game played with emotion and I thought they outplayed us. They outplayed us, they outcoached us, and they deserve to win."